The name Zinedine Zidane has been synonymous with excellence in French football for the last two decades. In more recent years, the former World Cup winner has made a name for himself as a formidable manager too.
Let's take a look at some Zinedine Zidane career stats to get a sense of the man, the myth, and the legend, affectionately known as 'Zizou'.
Ultimate Zinedine Zidane Stats

:
Zinedine Zidane age

– 47

Zinedine Zidane height – 1.85 m (6 ft 1 in)
Zinedine Zidane total games played – 792
Zinedine Zidane total games coached – 256 (as of 8 March 2020)
Zinedine Zidane total goals scored – 156
Zinedine Zidane career trophies – 15 (as a player), 10 (as a manager)
Zinedine Zidane total individual career awards – 84 (as a player), 23 (as a manager)
Zinedine Zidane salary – €12 million a year ($13 million)
Zinedine Zidane net worth – €62 million ($70 million)
Zinedine Zidane Champions League stats – 117 appearances, 23 goals, one title win as a player and three title wins a manager
1. Zidane played 61 games for AS Cannes, scoring six goals
(Source: Wildstat)
He was discovered at age 14 by Former AS Cannes player-turned-scout Jean Varraud.

Zidane was given a car by Cannes Chairman Alain Pedretti after scoring his first goal.

He helped the club secure its first-ever European football berth by qualifying for the UEFA Cup in 1990. 
The great footballer was born in La Castellane, Marseille, in Southern France to Algerian immigrant parents. Zinedine Zidane's family immigrated to Paris just before the beginning of the Algerian War in 1953. It was in the tough neighborhood of Castellane that Zidane got his first taste of football, playing in the main square of the housing complex. 
Zinedine Zidane's biography reads like a fabled rags-to-riches story. He joined his first club, US Saint-Henri, in 1981 at the age of 10. After spending a year and a half at US Saint-Henri, Zidane joined SO Septèmes-les-Vallons in 1983. There, he stayed until he was 14. 
He was then selected to be part of a three-day training camp. The event took place at a football Institute, run by the French Football Federation, and it was there that Varraud found him. That's how Zidane got recommended to AS Cannes. 
Zidane was initially supposed to stay at Cannes for six weeks but ended staying at the club for four years. Cannes Director Jean-Claude Elineau invited Zidane to stay with him and his family. He provided the usually hot-headed Zidane with the equilibrium he needed. 
He made his professional debut for Cannes in 1989, displaying extraordinary technique and ball control, showing glimpses of what would make him one of the best players in the world.
2. In the 1992–93 season Zidane was transferred to Girondins de Bordeaux for €7 million
(Source: Transfermarkt)
Zidane played 139 games for Bordeaux, scoring 28 goals. 

He won the 1995 Intertoto Cup.

The team finished runner-up against Bayern Munich in the 1995–96 UEFA Cup.

In 1996, Zidane received the award for Ligue 1 Player of the Year.
Zidane made his way over to Bordeaux in 1992. In the four years, he was with the club, he was part of a formidable midfield partnership with Bixente Lizarazu and Christophe Dugarry. The trio would go on to become a staple of the 1998 French national team. 
In that time, Blackburn Rovers manager Kenny Dalglish had expressed interest in signing both Zidane and Dugarry. In response, club owner Jack Walker said the famous words "Why would you want to sign Zidane when we have Tim Sherwood?"
Towards the end of 1996, Zidane was offered to Newcastle United for £1.2 million. The club turned him down, saying he wasn't good enough for the English First Division. That same year Zidane reached the Euro 96 semi-finals with France and was named French Division 1 Player of the Year. 
3. Zidane joined Juventus in the spring of 1996 for €3,5 million
(Source: Transfermarkt)
Zidane made 151 appearances and scored 24 goals.

He won the Serie A twice in a row with Juve; in 1996–97 and 1997–98.

He was named Serie A Foreign Footballer of the Year twice; in 1997 and 2001.
After some standout performances for Cannes and Juve, Zidane had the pick of the litter of clubs but decided to join the reigning UEFA Champions League Juventus. His impact in Italy was immediate, winning the 1996 Intercontinental Cup, the 1996–97 Serie A title, and was named Serie A Foreign Footballer of the Year in his first season.
The following season he helped Juve win the Serie A title and retain the Scudetto, while also reaching their third consecutive Champions League Final. In the final, Juventus lost to Zidane's next club – Real Madrid.
In his final season in Italy in 2000-01, Juve finished second. They were also eliminated in the group stages of the Champions League after Zidane was banned for headbutting Hamburger SV player Jochen Kientz.
4. Zizou scored twice in the final to help steer France to the FIFA World Cup in 1998
(Source: The National)
Zinedine became the first French player to receive a red card in a World Cup Finals match.

He came back and was named Man of the Match in the final game.

He would receive the Légion d'honneur later that year.

Zidane also won the Ballon d'Or, FIFA World Player of the Year and UEFA Club Midfielder of the Year in 1998.
The 1998 FIFA World Cup was the first World Cup that Zidane participated in. With France being the host nation, they were automatic favorites. The French team won all three of their group stage games. Zidane, however, got sent off in the match against Saudi Arabia, the second one in the series. 
He came back to help France defeat Italy 4–3 on penalties after a goalless draw in the quarter-finals. This lead to a faceoff with defending champions Brazil at the iconic Stade de France stadium. Zidane scored two similar goals, both headers, from corner kicks taken by Emmanuel Petit and Youri Djorkaeff. Petit added a third goal deep in stoppage time in the second half. That way, he sealed the 3–0 win and France's first-ever World Cup.
Zidane was named Man of the Match and became an instant national hero. The celebrations that took place in Paris on the Champs-Élysées were of epic proportions. An image of Zidane was projected on the Arc de Triomphe, with the words "Merci Zizou".
5. Two years later, Zidane won Euro 2000 with France
(Source: BBC Sports )
France became the first team since 1974 to hold both the World Cup and the European Championship at the same time.

UEFA named Zidane Player of the Tournament.

Zidane was named French Player of the Year.

He won his second FIFA World Player of the Year award.

Zidane won the Ballon d'Or Silver award

He was also awarded the Onze d'Or for the second time.
France went into Euro 2000 with the confidence of the world conquerors that they were. The fact they had the best player in the world as their playmaker certainly helped their confidence as well. 
Zidane finished the tournament with two crucial goals – a bending free-kick against Spain in the quarter-final and the golden goal from the penalty spot in the semi-final against Portugal. The latter saw France reach one of the most prestigious events of world football – the Euro 2000 final.
Most of that success came from Zidane's performances, who dominated the tournament with his trademark skill and masterful vision. His talent as a world-class playmaker showed up in a way the fans had last seen from Diego Maradona in 1986. 
Zidane himself believes he was at his peak during the tournament. Indeed, he was instrumental in every game from the opening match with Denmark, all the way to the final with Italy.
On the domestic front, Zidane was named Serie A Foreign Footballer of the Year for the second time. He was also the Serie A top assist provider in this final season he had with Juventus. 
6. In 2001, Zidane joined Real Madrid for a world-record fee of €77.5 million
(Source: Juventus)
He was the latest addition to the Galácticos era of Real Madrid.

Zizou made 155 appearances and scored 37 goals for Madrid.

He won the Spanish Super Cup twice; in 2001 and 2003.

He also won the 2002–03 La Liga trophy.

Zidane won the 2002 UEFA Champions League, scoring the famous match-winning goal in the final.

He was named FIFA World Player of the Year for the third time in 2003.
Real Madrid signed Zinedine Zidane to a landmark deal in 2001, becoming the most expensive footballer in history. He joined, arguably, the best Real Madrid squad in history. The team was later dubbed the Galácticos for the sheer amount of star power it had. Even before Zidane, it already boasted the likes of his fellow Frenchman Claude Makelele, as well as Portugal legend Luís Figo, Spanish stalwart Iker Casillas and Brazilian defensive maverick Roberto Carlos. 
In his first season at the club, Zidane scored a famous goal that won a key match for his team. The hit was from a volley, and he even did it with his weaker foot. This turned out to be the winning goal in Madrid's 2–1 win over Bayer Leverkusen in the 2002 UEFA Champions League Final. He was also awarded the La Liga Best Foreign Player award. 
In his second season, he was part of a Madrid midfield that had also attracted England legend, David Beckham. The team won the La Liga trophy, while Zidane got his third FIFA World Player of the Year award.
7. After 17 years of top-flight football, Zidane decided to retire in 2006 at age 34
(Source: The Guardian)
The final season of

Zidane's Real Madrid

club career ended without a trophy, but he did score his first and only career hat-trick.

Zidane's statistics

at the end of the season for Real Madrid saw him become the second-highest goalscorer (9) and assists provider (10).

He captained France to the 2006 FIFA World Cup Final, which they lost to Italy.

Zidane was awarded the Golden Ball as the player of the tournament.

He scored a cheeky penalty to become only the fourth player in World Cup history to score in two different finals.

Zidane was sent off in the 110th minute, after headbutting Marco Materazzi in the chest.
With retirement on his mind throughout his fruitful career at Real Madrid, Zinedine Zidane's last game as a player was in the 2006 FIFA World Cup Final against Italy. Zidane had already bowed out of international duty after France's elimination right from the group stages of the 2002 World Cup and their quarterfinal elimination in Euro 2004. 
At the behest of then-coach Raymond Domenech, Zidane came out of retirement and was immediately reinstated as team captain. He earned his 100th cap for France in a 1–0 friendly win over Mexico. This would also turn out to be his last match at the Stade de France. 
At 34 years old, Zidane was the best he'd ever been at the 2006 World Cup. Despite France's slow start in the tournament, and his suspension for the third group stage match, he made a comeback. 
Zidane sent France to the quarterfinals after setting up Patrick Viera and scoring himself for a 2-0 victory over Spain. He once again proved instrumental in the last-eight match against Brazil. In a Man of the Match performance, he set up Thierry Henry for the solitary and decisive goal. 
Zidane's penalty kick against Portugal in the semi-finals decided the contest and sent France to another major final. He was named Player of the Tournament before the match against Italy. 
With so much riding on this match as the last of his career, Zidane coolly put away the now-iconic penalty kick. With that performance, he joined legends Vavá, Pelé, and Geoff Hurst at the top spot for most goals in a World Cup Final. 
Zinedine Zidane made news headlines after being sent off in the 110th minute of the game after the infamous 'Zidane headbutt' to Marco Materazzi. He claimed the Italian had insulted his sister, which Materazzi later admitted to. 
8. Zidane ended his playing career with the most FIFA World Player of the Year awards–6 in total
(Source: topend sports)
Three FIFA World Player of the Year awards in 1998, 2000 & 2003.

One FIFA World Player of the Year Silver Award in 2006.

Two FIFA World Player of the Year Bronze awards in 1997 & 2002.

Zidane also has won the most Onze d'Or awards–7 in total, an honor he shares with Cristiano Ronaldo.
At the end of his playing days, Zinedine Zidane's career stats undeniably made him one of the best players of all time. Zidane held several records. He is the only player in history to win the World Cup and the European Championship. 
Zidane was also named as the best player in each of the competitions. On top of that, he made history as the oldest player to win the FIFA World Cup Golden Ball.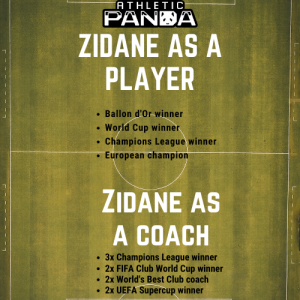 His other records include being the only player in history to be named Player of the Year in three of the top five leagues in the world (France, Italy and Spain). Zidane also holds the record for most red cards received in FIFA World Cup matches, alongside Cameroonian legend Rigobert Song. 
Zidane later said that of the 14 career red cards he's received, 12 of them were a result of provocation. This is something Zidane attests to his passion for the game and the temper he developed growing up in the tough neighborhood of the La Castellane housing complex.
9. Zidane became a huge proponent for charity work post-retirement
(Source: looktothestars)
Zidane became a Goodwill Ambassador and regularly plays in the Match Against Poverty, in the effort to end poverty.

He also helped raise funds for the Keuydaroon Children's AIDS Charity in Thailand.

Zidane also took part in the biennial charity event Soccer Aid for UNICEF.
Zidane's retirement provided him with ample time to pursue his other passion – charity work. In 2007, he played a charity game in Thailand. The game helped raise funds that supported the Keuydaroon Children's AIDS organization. With the profits from the charity event, they built two schools and 16 three-bedroom houses.
He also worked with the United Nations Match Against Poverty, an initiative he helped conceive with his former Real teammate Ronaldo. The project has seen him play around the world with other legends to benefit the United Nations Development Programme. 
The 12th "Match Against Poverty" in 2015 helped the hardest-hit countries of Guinea, Liberia and Sierra Leone rebuild and prosper after the Ebola epidemic.
10. Zidane was appointed as an ambassador to Qatar's 2022 World Cup Hosting Bid in 2010
(Source: Reuters)
The bid was successful and Qatar was announced as 2022 FIFA World Cup hosts.

Zidane has also supported two Summer Olympic bids for Paris; an unsuccessful bid in 2012 and later Paris' successful bid for the 2024 Summer Olympics.
Qatar's 2022 World Cup bid committee announced Zidane as the ambassador for their campaign, Zidane appeared in ads and promotional material for Qatar in their successful bid attempt. 
Following the successful bid, Zidane said that football belonged to the world and he was happy to have helped a new country get the honor of hosting a World Cup.  
Zidane, a Muslim of Algerian Kabyle descent, considered it a win for the Arab world as a whole. 
11. In 2009, Zidane was announced as the advisor to Real Madrid president Florentino Pérez
(Source: Goal)
A year later, in 2010, Zidane was announced as a special advisor to the Real Madrid first team.

Zidane became Real Madrid's new sporting director in 2011.

Jose Mourinho was fundamental in Zidane's quick ascent.

Zidane replaced Jorge Valdano, who was fired due to personality conflicts with Jose Mourinho.
Even though his charity work and frequent benefit matches were keeping Zizou busy, Real president Florentino Perez knew what he had in Zidane. In 2009, he appointed him as his advisor. Thus began Zidane's ascent up the corporate ladder at Real Madrid, where his main task was to assist in optimizing first-team conditions. 
Zidane spent a year in the position before being announced as a special advisor to the first team. Then-Real Madrid coach José Mourinho requested for the former star midfielder to work more closely with the team. 
His responsibilities would include being part of Champions League events and promotions. He would regularly travel with the first team and meet with the head coach on first-team matters. He spent a year in that role before getting promoted once again, this time to Real Madrid's new Sporting Director.  
12. Zinedine Zidane began his managerial career in 2014, as coach of Real Madrid's B team, Real Madrid Castilla
(Source: footballwood)
He was initially hired as the assistant coach to Santiago Sánchez at Castilla.

Zidane was previously appointed assistant coach to Carlo Ancelotti in the Real Madrid first team in 2013.

He was reported for acting as Real Madrid Castilla's head coach without the necessary coaching badges.

Zidane steered the B-team for 57 games with 26 wins, 14 losses, and 17 draws. 

He lead Castilla to the 1st place in the Segunda División B league in his second season.
After France's dismal campaign in the 2010 World Cup, Zinedine Zidane didn't have aspirations as a coach, at least not immediately. It took three years for him to change his mind, accepting a job as one of Carlo Ancelotti's assistant coaches in the 2013-14 season.
He moved over to Real Madrid's B team in 2014 as Santiago Sánchez's assistant. He was eventually reported by the director of the Spanish National Football Coach Education Centre (CENAFE), Miguel Galán, for acting as the head coach without the proper badges. Galán stated everyone was aware that Zidane was acting as head coach and that Sánchez's role was purely pro forma. 
Zidane was suspended for three-months from coaching but eventually became the official head coach. 
13. Real Madrid hired Zinedine Zidane as manager of the first team in 2016 
(Source: Real Madrid)
Zidane replaced sacked former Liverpool manager Rafael Benitez.

Zidane led Madrid to a club-record of 16 consecutive La Liga victories.

He would guide the club to a La Liga title in the 2016-17 season and two FIFA Club World Cup crowns.

He would also become the first manager to win three European Cup titles in a row.

He was named France Football French Manager of the Year twice in a row in 2016 and 2017.

Awarded The Best FIFA Football Coach in 2017.
Zinedine Zidane's statistics as Real Madrid coach far surpassed his stats as a player. At least in terms of accomplishments. Zidane enjoyed a miraculous run of form in his maiden season as Real manager. 
He ended Barça's 39-match unbeaten run in his first El Clásico, and he won his first of three consecutive Champions League trophies. In doing so, he became only the second player after Miguel Muñoz to win the trophy with Real Madrid as both a player and a manager. 
In 2017, he led Madrid to another Champions League victory, making them the first club in history to win the competition back-to-back. This was also Zidane's first double as a coach, and the club's first since 1956–57. He later won the 2017 UEFA Super Cup, making him the first manager to win two UEFA Super Cups in a row since Arrigo Sacchi's Milan in 1990.
Zidane won the Champions League for the third time in a row in 2018, becoming the first manager to win the trophy in three consecutive seasons. Five days after the Champions League Final, Zidane announced his resignation as Real Madrid manager. 
Zinedine Zidane's stats at the end of his tenure revealed he is the only manager in Real Madrid history to win four trophies in one season and five in a calendar year. 
Zidane returned to Real Madrid as head coach on 11 March 2019, replacing his former Real teammate Santiago Solari. The latter had spent only five months in this position and was himself a replacement for Julen Lopetegui's equally brief spell in charge.
 14. Zidane has four sons, who are all football players
(Source: Bleacher Report)
All four of Zidane's sons were in the Real Madrid development at the same time. 

His eldest son Enzo Zidane Fernández, age 24, plays as a midfielder for Primeira Liga side C.D. Aves in Portugal.

Second-born Luca Zidane Fernández, age 21, is a goalkeeper for Spanish Segunda División side Racing Santander.

Third-born Theo Zidane Fernández, age 17, is a midfielder in Barcelona's under-19 team. 

Last-born Elyaz Zidane Fernández, age 14, is a defender in Cadete B at the Real Madrid Academy.
All four of Zinedine Zidane's children chose to follow in his footsteps and pursue a career in football. Enzo, the oldest of Zinedine Zidane's sons, is a creative playmaker, just like his father. In fact, he has a strikingly similar playing style and technical abilities. He was part of Real Madrid's C team and even trained with the first team before moving to Aves. 
Luca is a highly-touted goalkeeper, having kept guard for France's under-17 national team. He, like his brother, also trained with the first team at Real before deciding to move to Santander. 
Theo is said to be the one that most resembles his father's playing style. Zidane's third-born shows technical prowess and ability to spot the decisive pass. These qualities make him a strong future prospect for both France and Barcelona.
Elyaz is the only one of his brothers that is still with the Madrid academy. Left-footed and strong on the ball, he is only just beginning to make his progression through Real's youth ranks. He has ample time to match or even surpass Zinedine Zidane's stats.
FAQs
: 
Who is Zinedine Zidane?
In case you aren't a football fan, Zinedine Zidane is a French former football player, who is considered one of the best football players of all time. Zidane's stats also include a World Cup victory. He is the current manager of Spanish La Liga club Real Madrid.
How much is Zinedine Zidane's salary?
Zinedine Zidane is on a €12 million annual salary as part of his three-year deal as Real Madrid coach.
How many red cards does Zidane have?
Zinedine Zidane has a total of fourteen red cards, acquired throughout his career.
Where is Zinedine Zidane now?
Zinedine Zidane is currently the manager of Real Madrid, in his second stint with the club.
How many Champions League trophies did Zinedine Zidane win as a player?
Zinedine Zidane won the Champions League once with Real Madrid in 2002.
Sources
:
1. Wildstat
2. Transfermarkt
3. Transfermarkt
4. The National
5. BBC Sports
6. Juventus
7. The Guardian
8. Topend Sports
9. looktothestars
10. Reuters
11. Goal
12. footballwood
13. Real Madrid
14. Bleacher Report