Sports have been around for nearly as long as humanity itself, and in that time some truly weird and wondrous things have happened in the field of competition. 
So, read on to learn some awesome sports facts and trivia to bring up in your next cookout. 
Incredible Sports Facts:
Micheal Phelps has won a total of

28 Olympic medals

, the most in Olympics history. 

In 1999,

Sunderland put a space clause

in Swedish footballer Stefan Schwarz's contract.

In 1950, India withdrew from the first and only

Soccer World Cup

it ever qualified for because

FIFA banned playing barefoot

. 

Golf is the first and so far the only

sport played on the moon

. 

MLB Hall of Fame pitcher Gaylord Perry hit his first, and only, home run

hours after Neil Armstrong set foot on the moon

. 

The

first-ever live televised football

match was broadcast in October 1946.

Finland has a

National Sauna Tournament

every year. 

Tour de France has a slew of unwritten rules

which make for plenty of

fun sports facts

, for example, if the leader of the race needs to pee, everyone stops or slows down. 

There's a 150-year-old

oak tree at the center of a soccer field

in Estonia. 

Sheep Counting

is an official sport in Australia. 

A

1970 FIFA World Cup qualifying match

between El Salvador and Honduras coincided with a war between the two countries that only lasted 100 hours. 
1. Micheal Phelps has won more Olympic gold medals than 161 entire nations
(Source: The Guardian)
Micheal Phelps has won a total of 28 Olympic medals, including 23 gold medals. 

If he were a nation, Micheal Phelps would rank 35th on the all-time Olympic gold medals list. 

He won eight gold medals at the 2008 Beijing Games, setting a new record for most first-place finishes at any single Olympic.

Phelps has set 39 swimming world records and holds 23 Guinness World Records.

In 2004, a street in his hometown of Baltimore was renamed 'The Michael Phelps Way'.
In one of the most amazing sports trivia facts in history, Micheal Phelps holds the all-time records for Olympic gold medals (23), Olympic gold medals in individual events (13), and Olympic medals in individual events (16), making him the most successful and most decorated Olympian of all time. 
Phelps retired from competitive swimming for the second time, following the Rio Olympics in 2016 where he won five gold medals and one silver medal. At 31 years old, his performance was considered a unique achievement for an athlete well beyond the typical peak for male swimmers.
2. In 1999, Stefan Schwarz had a special "space clause" in his contract that would render it invalid if he ever went to space
(Source: Onefootball)
Stefan Schwarz signed to Sunderland for just under £4m in 1999.

A special clause was inserted into his contract to say he could not travel to space.

Schwarz's agent had a seat on one of the first planned commercial flights.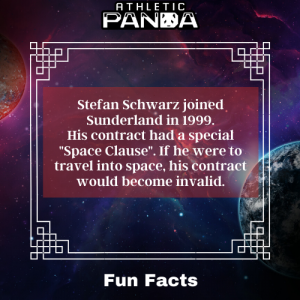 Back in 2002, the idea of commercial space flights started floating around and lots of affluent people were excited by the possibility of going to space. 
Schwarz's agent had a seat on one of the first planned commercial flights making Sunderland concerned he would want the player to join him. 
So in a bit of a light-hearted moment during protracted negotiations, which made for one of the truly funny sports facts out there, Sunderland added the clause in Schwarz's contract as a way to protect the club, and the player, from any "dangerous activities" that wouldn't normally be covered by insurance. 
3. It's an urban sports legend that India withdrew from the 1950 World Cup because FIFA wouldn't let them play barefoot
(Source: Los Angeles Times)
The Indian team first drew attention with their barefoot performance in the 1948 Summer Olympics. 

India earned an automatic spot in the World Cup after the Philippines, Indonesia, and Burma all withdrew.

The official reason for the withdrawal was due to "disagreements over team selection, and insufficient practice time".

The real reason was the AIFF downplaying the importance of the World Cup. 
For years one of the most incorrect sports history facts was that India withdrew from the 1950 World Cup because FIFA banned playing barefoot. The other alternative theory was that India withdrew because they couldn't afford to send their team to the tournament. Neither theory is true. 
Sailen Manna, who would've captained India during the World Cup, confirmed the real reason in an interview with Sports Illustrated. The AIFF just did not take the World Cup seriously and they considered the Olympics to be the ultimate goal. 
As crazy as it sounds, in 1950 the World Cup wasn't the huge draw that it is now, particularly for Asian countries. Facts about sports show that Indian football officials just did not think that the World Cup was a big enough of a deal to warrant sending their players halfway across the world.
4. Astronaut Alan Shepard took three swings to two balls on the surface of the moon in 1971
(Source: Forbes)
Apollo 14 commander Alan B. Shepard hit two golf balls on the surface of the Moon on Feb. 6, 1971. 

Shepard snuck a club and balls into space with him.

There is a replica of Shepard's club at the Smithsonian's National Air and Space Museum.

The authentic 6-iron golf club head attached to the space tool that Shepard used is in a golf museum.
Among the really cool sports facts is that Alan Shepard wasn't just the commander of the Apollo 14 space mission in 1971, but also an avid golfer. He hatched a plan to try and play golf while on the moon but unfortunately, NASA did not have a sense of humor after the ill-fated Apollo 13 mission where an oxygen tank exploded causing the astronauts to scramble to return safely to Earth.
He, however, somehow managed to sneak in a club and two golf balls by modifying a standard 6-iron head of a Wilson golf club and attaching a rod that astronauts use to scoop soil and rock samples. He tucked the clubhead into his spacesuit and hid the two balls in a sock. 
As Shepard and Astronaut Edgar D. Mitchell were exploring the lunar surface, he took his chance, attached the clubhead to the rod, and hit his two balls. Talk about sports fun facts that are out of this world! 
5. MLB Hall of Fame pitcher Gaylord Perry hit his first, and only, home run hours after Neil Armstrong set foot on the moon
(Source: MLB)
Gaylord Perry played in Major League Baseball as a right-handed pitcher for eight different teams from 1962 to 1983.

He was elected to the Baseball Hall of Fame in his third year of eligibility in 1991.

Perry had a reputation for doctoring baseballs. 
One of the most amazing sports facts in history is the tale of San Francisco Giants MLB pitcher Gaylord Perry's first and only home run. As the story goes, Gaylord was in batting practice when a reporter named Harry Jupiter called out to manager Alvin Dark that the young pitcher looked like he had some chops.
To which Dark replied, "No way. There'll be a man on the moon before Gaylord Perry hits a home run."
Then it happened, Gaylord Perry hit his first MLB home run. On the same day, Neil Armstrong and Buzz Aldrin landed on the moon with the Apollo 11 space mission. 
6. The BBC broadcast the first live televised football match in October 1946
(Source: Spartacus-Educational)
The very first televised match of football was screened only nine years prior in 1937.

The match was Barnet vs Wealdstone and was broadcasted from Barnet's home ground Underhill.

The broadcast showed 20 minutes of the first half and 35 minutes of the second half before it became too dark.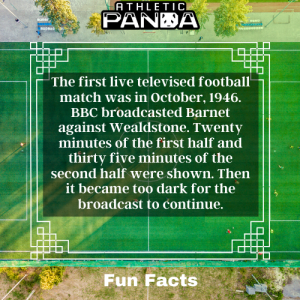 It seems ridiculous when you think about it from today's perspective, but one of the more interesting facts about sports is that for a long time almost everyone in football hated the idea of being on television.
The general feeling among the Football League and the clubs themselves was that if a football match was screened on television – even as highlights hours after it was played – nobody would bother going to see it at the stadium, or any other match that was being played at the same time.
The first organization to agree to a TV screening was the Athenian Football League, who gave the BBC permission to televise the match between Barnet and Wealdstone on October 19, 1946.
7. The World Sauna Championships were an annual contest for endurance held in Finland, from 1999 to 2010
(Source: BBC)
The tournament originated from unofficial sauna-sitting competitions Heinola.

It grew to feature contestants from over 20 countries.

All competitors competed at their own risk and had to sign a waiver.

After the death of one finalist and near-death of another during the 2010 championship, the organizers discontinued the event.
One of the strangest sports facts is that a World Sauna Championships exists. The event started in Finland but an off-shoot of the Finnish version popped up in Sweden, where Ari Petroff stayed in a sauna for five hours and 10 minutes to become a national champion.  
Sauna bathing in extreme conditions is a severe health risk so all competitors took part in the contest at their own risk, and had to sign a form agreeing not to take legal action against the organizers.
8. The Tour de France has "unwritten rules" to promote good sportsmanship
(Source: TheConversion)
If the tour passes through a town that one of the riders grew up in then everyone slows down to let that rider take the lead. 

If the leader of the tour needs to pee then everyone slows down or stops. 

Riders aren't allowed to attack the yellow jersey or other contenders if they crash or experience a mechanical incident.

Race leaders and the experienced riders in the peloton (main pack of riders) can call a neutralization or go-slow if race conditions are dangerous.
The unofficial rules of the Tour de France make for a lot of interesting sports facts. They are an important part of the culture and functioning of the sport. Mostly because the rules are practiced and enforced by the riders themselves, thus allowing the riders to govern themselves and create a sense of ethos among them. 
Despite its long history of cheating, professional cycling also has a strong ethos of honorable racing within the profession. Which is ironic, seeing as the unwritten rules of the Tour may matter more to the riders than the official regulations.
Ultimately, the unofficial rules provide a kind of natural justice or order that can be preserved from within and such rules and race etiquette can build social cohesion in the race itself. 
9. There's a 150-year-old oak tree at the center of a soccer field in Estonia
(Source: Estonian World)
The tree was planted in the late 1940s when the grounds the stadium was built on was a park. 

The tree was voted the European Tree of the Year in 2015.

It still stands despite an attempt by two Soviet tractors to pull it down.

When a match is on, players make use of the tree to help pass the ball.
The Orissaare tree stands in the middle of a football stadium, which was enlarged in 1951 and therefore surrounds the tree. 
The locals who play football on the pitch have become used to it and know how to use the tree to complete passes. It also offers shade to the players.
Another random sports facts example — It was named European Tree of the Year in a contest in 2015.
10. Sheep Counting is an official sport in Australia
(Source: Topend Sports)
The contest was held for the first time in New South Wales, Australia in 2002.

The objective is to count as many sheep as you can, and whoever makes the most accurate estimate is the winner. 

Peter Desailly of Australia won the inaugural competition by correctly counting 277 sheep.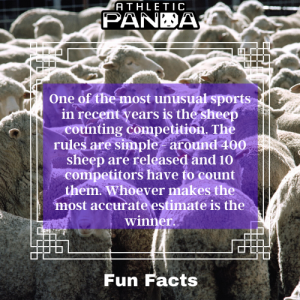 It's one of the particularly weird sports facts but yes, Sheep Counting is a sport. Australians love to watch and play sports, and in 2002 they added a new addition to the yearly calendar — a sheep counting competition. 
The rules of this contest are quite simple — about 400 sheep make a mad dash past ten competitors, who will try to count them as accurately as possible. 
Peter Desailly was the first winner, correctly counting 277 sheep.
11. In 1970, El Salvador and Honduras went to war for only 100 hours. The war coincided with a FIFA World Cup Qualifier
(Source: Independent)
Existing tensions between the two countries coincided with rioting during a 1970 FIFA World Cup qualifier.

The war began on 14 July 1969 and a ceasefire was called on 18 July 1969.

The actual war lasted just over four days but it would take more than a decade to arrive at a final peace settlement.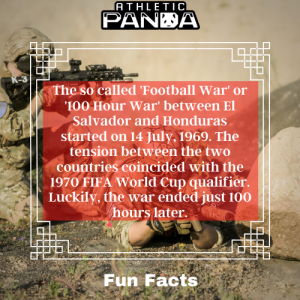 One of the more curious sports facts is that in June 1969, Honduras and El Salvador met in a two-leg 1970 FIFA World Cup qualifier. Tensions between the two countries were already high over land reform in Honduras, along with immigration and demographic problems in El Salvador.
Honduras won the first game 1–0 in its capital of Tegucigalpa on June 8, 1969. A few days later, on June 15, El Salvador won the second game 3–0, which was played in San Salvador and was followed by violence between fans. 
By the day of the play-off match in Mexico City, El Salvador had dissolved all diplomatic ties with Honduras, stating that in the ten days since the game in El Salvador, 11,700 Salvadorans had been forced to flee Honduras. 
El Salvador won the decisive third game 3–2 after extra time, nearly three weeks later on 14 July 1969, the concerted military action began.
Finding out interesting sports facts and trivia is part of what makes being a sports fan so much fun. 
Crazy sports facts especially can make for an interesting conversation starter once we can finally go back out into the world.
FAQ: 
Q: What is the first sport ever?
A: Wrestling is considered the oldest sport in the world, there are cave paintings in Lascaux, France, dating back 15,300 years that depict wrestlers.
Q: How many sports are there?
A: By any reckoning, there are more than 8,000 sports in the world.
Q: What is the most popular sport in the world?
A: Soccer is the most popular sport in the world.
Q: Who invented sports?
A: While we know plenty of interesting and curious sports facts, no one can say for certain when sports began or who invented it.
Sources: 
1. The Guardian
2. Onefootball
3. Los Angeles Times
4. Forbes
5. MLB
6. Spartacus-Educational
7. BBC
8. TheConversation
9. Estonian World
10. Topend Sports
11. Independent