Even though golf is much less popular than football and basketball, or even tennis, everyone has at least heard about Tiger Woods. Nowadays, the entire sport is recognized mostly because of its most famous athlete. 
However, golf is a very old sport, as it's modern version's roots can be traced back to 15th century Scotland. Therefore, if we intend to talk about the best golfers of all time, we need to take into account a much wider time span.
This article will rank the 21 best golf athletes ever, including contemporary ones, old legends, as well as female golfers. 
To make this list, we considered the number of titles won, the amount of money grossed, and their overall popularity over time.
So, without much further ado, let's check out who the best golf players in the world are and why their name is on this list.
1. Tiger Woods
(Source: Athlon Sports)
Choosing the best golfer of today is not a difficult task. There's only one man that can wear that title and his name is Tiger Woods. His peak performance started in 1997, at which time it seemed that he would obliterate every record known on the PGA Tour. 
Since then, he has achieved 79 PGA Tour victories and won 14 other majors, some of the most notable ones include:
1997 Masters

1999 PGA Championship

2000 British Open

2000 U.S. Open

2001 Masters
The list would be far too long if we mentioned all of them. Tiger Woods is the best golfer ever also because he managed to win four straight majors in 2000/2001, which makes him unique in the world. 
2. Annika Sorenstam
(Source: PGA)
Even though male golf players get much more media time than female players, female golf is no less exciting. Because of that, it makes sense to tell you who the best female golfers of all time are as well. At the moment, Annika Sorenstam is topping that chart. 
Thus far, she has achieved 73 LPGA victories and has won 10 majors. These include:
2001, 2002, 2005 ANA Inspiration

1995, 1996, 2006 U.S. Women's Open

2003, 2004, 2005 Women's PGA Championship

2003 Women's British Open
Some of her other achievements include winning 8 Player of the Year awards, as well as 6 Vare Trophies. We should also not forget that Annika Sorenstam is the only female golfer to shoot a 59 in a competition. That's quite a feat.
3. Jack Nicklaus
(Source: Bleacher Report)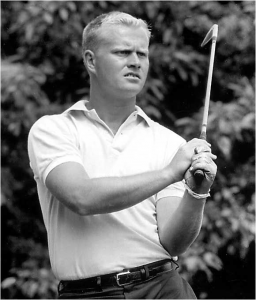 One of the biggest debates in the world of sport is whether Tiger Woods or Jack Nicklaus should hold the number one position. We believe a good compromise would be to say that Tiger is the best golfer right now and Nicklaus is the best player of the years past. 
Nicklaus is the GOAT due to the fact that he won 73 PGA Tours and 18 Masters during his long career. His most impressive trophies include:
1962 U.S. Open

1966 British Open

1972 Masters

1973 PGA Championship

1986 Masters
Even though Tiger Woods has won more PGA Tours than the legendary Golden Bear, he is the absolute winner when it comes to Masters. He managed to finish in the top five 56 times and be in the top ten 73 times, which made him one of the most famous golf players. 
4. Sam Snead
(Source: Live About)
Sam Snead deserves a place on this list perhaps more than anyone else. He has not excelled when it comes to the number of Majors won, but he was the all-time leader when it comes to PGA Tours for a long time. He has 82 of them, the same as Tiger Woods as of October 2019. 
During his lengthy and successful career, Snead won just 7 Majors, some of which are:
1942 PGA Championship

1946 British Open

1949 Masters

1949 PGA Championship
One of the reasons why he has not won more Majors is because he could not compete in them. Namely, during World War 2, 14 Majors were canceled between 1940 and 1945. Yet, he is still one of the greatest golfers of all time and the oldest player to win a PGA Tour event, at 52 years of age.
5. Arnold Palmer
(Source: Ranker)
Do you know that Arnold Palmer's nickname during his active golf career was "The King"? If you didn't and you don't know why it's time to find out. 
He played golf for almost 20 years, during which he amassed 62 PGA Tour victories and 7 Majors. 
Four of these wins were at the masters, which is a number that only Tiger Woods and Jack Nicklaus have achieved. 
Many consider him to be the king of professional golfer rankings because he achieved 29 of his victories in just 4 years. That's a feat no other golfer has managed to add to their name.
6. Ben Hogan
(Source: Links Magazine)
We can safely say that Ben Hogan dominated the golf world in the period between 1946 and 1953. That's impressive on its own, but it's even more impressive if you consider that he survived a horrible traffic accident in 1949, which put him out of play for an entire year.
Even so, he completed his professional career with 64 PGA Tour victories and 9 total Majors won, the most notable of which are:
1946 PGA Championship

1948 U.S. Open

1950 U.S. Open

1953 Masters

1953 British Open
He is, without a doubt, one of the biggest golf legends, and one of the most beloved golfers ever. He is the only player, apart from Tiger Woods, to win three Majors in the same calendar year.
7. Mickey Wright
(Source: PGA)
Mickey Wright has achieved 82 LPGA wins in her career, which is the second-most in the history of this sport. She began her successful career back in 1955 and won 13 majors in a short period between 1958 and 1966. 
Some of these that are worth mentioning and that turned her into a top-ranked golfer include:
1962, 1963, 1966 Western Open

1959, 1961, 1964 U.S. Women's Open

1961, 1962 Titleholders Championship

1958, 1960, 1961, 1963 Women's PGA Championship
When talking about her, the legendary Ben Hogan said that Wright had the best swing he had ever seen. She was incredibly popular while she played and was always a welcome sight on tours and in media.
8. Bobby Jones
(Source: How They Play)
Bobby Jones is one of the most authentic characters in the golf world and an athlete with one of the most incredible stories. Namely, he competed professionally only in the period between 1923 and 1930 and retired at the age of 28. Even so, he's considered to be one of the top golfers of all time. 
During his rather short golfing career, Bobby Jones won everything there was to win. He achieved 9 PGA Tour victories and snatched 7 Majors, including:
1923 U.S. Open

1926 U.S. Open

1926 British Open

1927 British Open
He lived and played in a period, during which the United States had just started its obsession with this sport. Had he continued to play for a while longer, we're confident he would have been the top PGA golfer.
9. Tom Watson
(Source: Sports Show)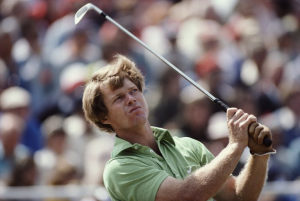 Few men can say that they dominated a single golf event as Tom Watson did. He managed to win the British Open five times in nine years and tied for second place in the tenth year.
But, that's far from his only achievement. There are plenty of other reasons why he's one of the top golfers in the world. 
He won a total of 39 PGA Tours and 8 Majors in total. He also won four breathtaking duels against Jack Nicklaus, including the greatest duel in golf history, the 1977 British Open.
His biggest accomplishments include:
39 PGA Tour wins

6-Time Player of the Year

5 British Open victories

He made at least one cut a year between 1971 and 2007. A 37-year streak. 
10. Gary Player
(Source: NY Post)
Gary Player is a South African golfing legend who has 24 PGA Tour victories to his name and 9 total Majors won. He has won championships on every continent in the world, except for Antarctica. However, we're sure he'd have won that as well if there was such a tournament. 
We, and many others, regard him as one of the best golf players of all time for a plethora of reasons.
He won 63 events in South Africa and dominated a total of 165 events on different tours. Moreover, Gary Player is one of five men in golf history who accomplished a career Grand Slam, doing so after his first four big victories. 
11. Ko Jin-Young
(Source: Rolex Rankings)
Ko Jin-Young is an incredibly young female golf player. She comes from South Korea and is just 22 years old at the moment. She was born in 1995, so she still has plenty of time to make a name for herself, even though she is already doing a fantastic job. She is already one of the best golf players.
She turned professional in 2013 and has since won 17 professional events. Some of her biggest achievements and awards thus far include:
2019 LPGA Player of the Year

2019 LPGA Vare Trophy

2019 LPGA Tour Leading Money Winner

2018 LPGA Rookie of the Year

2019 Rolex Annika Major Award
She is also one of the highest-paid female golfers of today. She earns around $1.6 million a year, which is a decent sum in the golf world. She has endorsement deals with Hite, Nikon, LPGA Golf Wear, and so on.
12. Gene Sarazen
(Source: Athlon Sports)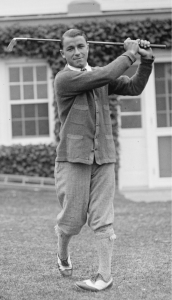 Gene Sarazen was a professional American golf player who dominated PGA rankings in the 1930s. He turned professional in 1920 and won each Major once between 1932 and 1935. 
He is one of the five players, including Tiger Woods, Jack Nicklaus, Gary Player, and Ben Hogan to achieve a career Grand Slam and win each of the four Majors at least once in his career. 
He entered the golfing world at a young age by caddying at a local golf club. His parents were poor Sicilian immigrants, so not many people imagined that he could become one of the best golfers of all time.
13. Phil Mickelson
(Source: Bleacher Report)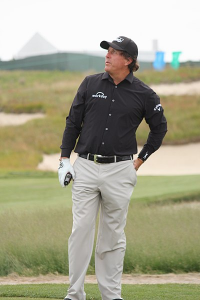 When Phil Mickelson started playing golf at a young age, he was tagged as the next Jack Nicklaus. He still hasn't lived to those expectations, but that's not to say that he is not an incredibly successful golfer. 
He has had some failures during his long career, but he also had some awe-inspiring successes. 
Phil Mickelson can be seen as one of the greatest golfers, considering that he won 44 PGA Tours and five Majors, three of which are Masters. 
He is one of the best-paid golfers as well. He earns $40 million a year from endorsements with brands such as Callaway, Barclay's, KPMG, Rolex, Amgen, and Exxon Mobil. 
14. Seve Ballesteros
(Source: Live About)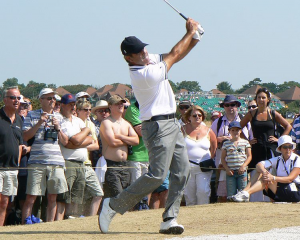 Seve Ballesteros has to be one of the best European golfers of all time. This Spanish golfer was born in 1957 and died in 2011 and was one of the leading golf figures between the '70s and the '90s. In 1999, he was admitted to the World Golf Hall of Fame.
Seve Ballesteros will always be remembered for his spectacular opening performance at the 1976 British Open at Royal Birkdale. He was just 19 years old and he finished tied second with the legendary Jack Nicklaus.
Here are some incredible achievements included in his player's profile:
Won 5 major championships—3 British Opens and 2 Masters

Earned 20 Ryder Cup points in 37 career matches

Won 50 European Tour events
15. Brooke Henderson
(Source: LPGA)
Brooke Henderson is a professional Canadian female golfer. Apart from being one of the best female golfers of all time, she is also the youngest player on our list. She was born in 1997 and is just 22 years old at the time of writing this article.
Even though she is so young, she already has a number of major golfing achievements written to her name. She was named the Canadian Press female athlete of the year for 2015, 2017 and 2018 and won her first major at age 18 in 2016 at the KPMG Women's PGA Championship. 
She learned golf at an early age thanks to her parents, both of whom are experienced, golf players. Her uncle and older sister also competed in golf competitions. 
She also earns well from playing golf and has several endorsement deals signed, such as the ones with Full Swing golf simulators, BioSteel, RBC, and Skechers. We can safely say she is one of the richest golfers today.
16. Byron Nelson
(Source: Ranker)
Lord Byron Nelson shares the same fate as Sam Snead when it comes to World War 2. Due to those incredibly difficult times, a total of 14 majors were canceled in the period between 1940 and 1945.
Nonetheless, he is still one of the best golfers of all time, having won 52 PGA Tours and 5 Majors: 
1937 Masters

1939 U.S. Open

1940 PGA Championship

1942 Masters

1945 PGA Championship
Interestingly, 50% of all of his PGA Tour trophies came in just two years—1944 and 1945. If it hadn't been for World War 2, we're sure he would have won many more titles during his career.
17. Lee Trevino
(Source: Links Magazine)
An interesting fact regarding Lee Trevino is that he never finished higher than number 10 at any of the Masters. Yet, he managed to win the PGA Championship, the U.S. Open, and the British Open twice each. 
One of the reasons why he is on our list of top golfers, apart from the fact that he won six majors in his career, is because he was named the PGA Player of the Year in 1971. Moreover, in total, he won 29 PGA Tours.
Lee Trevino also denied Jack Nicklaus a major tournament four times, which certainly helped make him one of the most legendary players.
18. Nick Faldo
(Source: Athlon Sports)
Nick Faldo was one of the most famous golfers in the world in the '90s. However, after his quite successful golf career, his employment took a slight turn. Today, he is one of the most famous on-air TV broadcasters and golf analysts. 
During his lengthy career, he won 6 majors—three British Opens and three Masters. He also has 30 European Tour wins, which is a respectable achievement.
His most notable performance has to be the 1990 British Open when he dominated his chief rival Greg Norman. Faldo was admitted to the World Golf Hall of Fame in 1997. 
19. Nancy Lopez
(Source: PGA)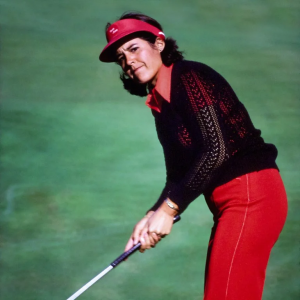 When talking about the best female golfers, one cannot omit the one and the only Nancy Lopez. Her fruitful professional golf career consists of 48 LPGA victories and 3 Majors. These are 1978, 1985, and 1989 Women's PGA Championships. 
She entered the world of professional golfers in 1978, which was her first season on the LPGA. Her first season was one of the most impressive ones in her career. In that season alone, she won 9 events, including one Major. 
Apart from that, Nancy Lopez was also the LPGA Player of the Year, the LPGA Rookie of the Year, and won the Vare Trophy in 1978. She is the only female player to achieve all of that in the same year.
20. Dustin Johnson
(Source: PGA Tour)
Dustin Johnson is a relatively young American professional golf player, born in 1984, who plays on the PGA Tour.
If you are wondering Who are the top-ranked golfers of today? the answer is Dustin Johnson. He became the world number 1 golfer in February 2017 and has stayed there for 91 consecutive weeks. That's one of the longest runs in the history of this sport.
Johnson definitely deserves to be the number one today considering that he has already accumulated a number of big wins. These include:
20 PGA Tour wins

7 European Tours

2016 PGA Player of the Year

2016 PGA Tour Leading Money Winner

2016 & 2018 Vardon Trophy
He earns around $11 million annually from his numerous endorsements, which include Adidas, TaylorMade, BodyArmor, NetJets, and others.
21. Ernie Els
(Source: Live About)
Last but not least is Earnie Els, the legendary South African golf player, also known as the "Big Easy". 
He was by far one of the most famous golf players in the 1990s thanks to his easy-going personality and his pure and easy swing. 
His tour victories include 19 PGA Tours and 28 European Tours. He also won 4 Major Championship, including:
1994 U.S. Open

1997 U.S. Open

2002 British Open

2012 British Open
Apart from these incredible achievements, he is also the World Golf Hall of Fame member, European Tour scoring average leader (2003-2004), European Tour Order of Merit winner (2003, 2004), and the winner of the Payne Stewart Award (2015).
Conclusion
If you did not consider yourself as a huge golf fan before reading this article, we hope something has changed after reading about the achievements of the best golfers of all time.
As you can see, golf is an exciting and dynamic sport and there are many players, other than Tiger Woods, who are worthy of public attention. 
Many of the athletes we wrote about in this article are not just the best golfers of all time, but the best sportsmen and sportswomen of all time as well. 
Sources:
1. Athlon Sports
2. PGA
3. Bleacher Report
4. Live About
5. Ranker
6. Links Magazine
7. PGA
8. How They Play
9. Sports Show
10. NY Post
11. Rolex Rankings
12. Athlon Sports
13. Bleacher Report
14. Live About
15. LPGA
16. Ranker
17. Links Magazine
18. Athlon Sports
19. PGA
20. PGA Tour
21. Live About