When we think about the highest-paid soccer players in the world, the first thing that comes to our mind is usually the big European Leagues. The players in the English Premier League and the Spanish La Liga definitely earn heaps of money.
However, the MLS Salaries are not too bad either. 
The USA was not known as a county of soccer fans until recently. Americans were obsessed with sports such as American football and baseball. Don't get us wrong—they still are. But it seems that soccer is becoming more and more popular in the United States as well.
In this article, we will show you the 13 highest-paid MLS players and tell you some interesting facts about them. You'll be surprised when you see some of the names on this list. 
Let's begin!
1. Zlatan Ibrahimović – LA Galaxy – $7.20 million
(Source: Statista)
Zlatan Ibrahimović is a Swedish professional football player with a Bosnian heritage. He plays as a striker and currently captains the MLS team LA Galaxy. 
Ibrahimovic is known around the world as one of the best strikers of his generation, so it does not come as a surprise that he is the highest-paid player in MLS.
The title of the best player in the league comes with a salary of almost $140,000 a week, which is an amount even some European-based players could envy him on. 
One of the reasons why Zlatan is a unique player is his height. He is 1.95m tall, which gives him an important edge over his opponents. Over the course of his lengthy career, he has scored more than 540 goals and won 31 trophies playing for Ajax, Milan, PSG, Manchester United, and other European grands. 
So, the next time someone asks you "How much does the highest-paid MLS player make?" you'll know the answer.
2. Michael Bradley – Toronto FC – $6.43 million
(Source: Marca)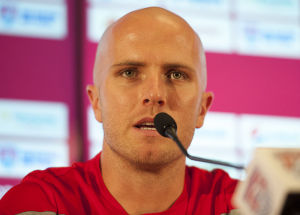 Michael Bradley is an American-born MLS midfielder who currently captains the Canadian team Toronto FC. 
He comes from a strong soccer background since he is the son of Bob Bradley. Bob is the former coach of the US men's national soccer team and the current Los Angeles FC manager. So, it seems like Michael Bradley was destined to be where he is today. 
Bradley is currently the second-highest-paid MLS soccer player with a yearly salary approaching $6.5 million. 
He started his professional senior career with the MetroStars in 2004 and has played in 7 different teams since then. He has also played in the USMNT since 2006. 
In total, he scored 17 goals for the national team and 46 goals for all of the clubs where he played. 
3. Jozy Altidore – Toronto FC – $6.33 million
(Source: MLS Players)
The number three MLS highest-paid player is Michael Bradley's teammate from Toronto FC, Jozy Altidore. He plays as a forward both his club and the USMNT. 
Altidore began his professional career at the age of 17, in 2006, playing for the New York Red Bulls. In 2008, he was transferred to Villareal and has changed six clubs since then. He has been playing for Toronto FC since 2015, which is his longest stint so far. 
Jozy Altidore can be happy with his yearly salary of $6.33 million, which translates into more than half a million per month. That's definitely more than he can spend. 
However, the hefty MLS Salaries are not his only source of income. He is also sponsored by some of the biggest sports brands in the world such as Puma and Adidas.
4. Carlos Vela – LAFC – $6.30 million
(Source: The Blue Testament)
Carlos Vela is known as one of Mexico's finest players. He is also one of the most important players for Los Angeles FC, where he has been playing since 2018. 
So far, it seems like he is doing a good job at LAFC, as he has the highest salary in his career so far. He earns $6.3 million a year, which is a bit over $120,000 a week. 
Carlos Vela is just 1.78m tall, so he is known as a rather fast player with an attractive style. He began his senior career in Arsenal but moved to MLS in 2018, signing with Los Angeles FC. 
Even though he has been playing in the US for just a year, he has already made it to the list of the top MLS salaries.
So far, he has made more than 450 appearances in his club career, during which he scored more than 150 goals. He has also been capped over 70 times for the Mexico national team and scored 20 goals.
5. Bastian Schweinsteiger – Chicago Fire – $5.60 million
(Source: MLS Players)
When talking about the highest-paid MLS players, we cannot omit this one. Bastian Schweinsteiger is arguably one of the most famous football players in the world. He was born in Germany in 1984 and spent his professional career mainly playing as a central midfielder, even though he started as a wide midfielder. 
He is most well-known for his lengthy career at Bayern Munich, where he spent 17 seasons and made over 500 appearances. During those 17 seasons, Bastian scored 68 goals, which is pretty good for a midfielder. 
Unfortunately, due to his age, Bastian Schweinsteiger had to retire from football in 2019, at the age of 35. Nonetheless, he is one of the players with the top salaries in MLS, earning $5.6 million a year. 
Apart from his mammoth salary, he also earns around $3 million from various endorsements. His biggest sponsors right now include Beats by Dre and Adidas. 
Schweinsteiger is also known for being married to Ana Ivanovic, the former WTA World number 1 tennis player. 
6. Ignacio Piatti – Montreal Impact – $4.44 million
(Source: The Blue Testament)
Ignacio Piatti is one of the best dribblers in the MLS, currently playing for the Canadian team Montreal Impact. He was born in 1985 in Argentina and has played in 7 different clubs during his professional senior career so far. 
Ignacio Piatti is loved both by fans and by his teammates because he is able to both create and score goals. At the moment, he is a winger, but he is skilled enough to play in any midfield position. 
Piatti has a yearly salary that is high above the average MLS salary of around $200,000. However, the difference between him and the number 5 on this list, Bastian Schweinsteiger, is quite high.
That's a bit of a surprise, as Piatti has played for some of the best clubs in Europe, South America, and North America. 
So far, he has scored almost 120 goals during his club career in more than 400 appearances. Thus, he definitely deserves a place on our list of top MLS player salaries. 
7. Alejandro Pozuelo – Toronto FC – $3.80 million
(Source: Marca)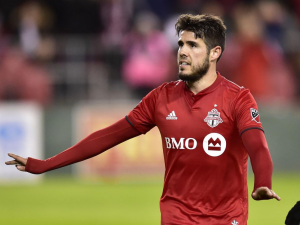 Alejandro Pozuelo is the third player from the Toronto FC team on this list. It seems that Toronto FC know how to compensate their players properly and keep them happy and motivated to give their best. 
Pozuelo is a Spanish player who plays as an attacking midfielder. He is just 1.7m tall, but that does not stop him from dominating the field with his speed, agility, and creativity. 
Alejandro Pozuelo is the youngest player with the highest MLS player salary. He was born in 1991, so he still has almost 10 years to build his career and reach new heights. 
His professional senior career began in Betis B in 2010, after which he also played for Betis, Swansea City, Rayo Vallecano, Genk, and Toronto FC. 
He can also be proud as in 2019, he was named to the 2019 MLS Best XI, which is one of the biggest honors in the MLS. 
8. Wayne Rooney – D.C. United – $3.51 million
(Source: Statista)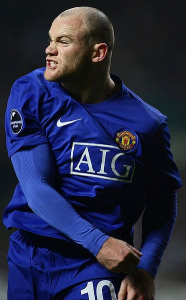 Wayne Rooney is one of the most iconic soccer players ever. The Englishman has some impressive accomplishments both for the clubs he's represented and the national team. 
Naturally, he has one of the highest MLS salaries, but we're surprised that he's not even higher on this list. At the moment of writing this article, he's earning a total of $3.51 million a year, which is close to $70,000 a week.
Rooney began his professional senior career in 2002 in his hometown club Everton, where he played until 2004. After that, he transferred to Manchester United, where he stayed for another 13 years. After going back to Everton for a year in 2017, he finally bought a plane ticket to the USA and joined D.C. United. 
According to Forbes, Wayne Rooney earns around $4.9 million from endorsements, the majority of which comes from Nike. Other notable endorsement deals include Samsung and HarperCollins.
9. Josef Martinez – Atlanta United – $3.06 million
(Source: MLS Players)
(Image Source: mlssoccer.com)
Josef Martinez is a Venezuelan football star who plays as a forward for the MLS club Atlanta United FC.
He is earning one of the highest salaries for MLS players, grossing more than $3 million a year. That also makes him the highest-paid player in his team.
We can only agree with that given how he performs on the pitch. Namely, he is a powerful and aggressive player who usually plays in the central position but also does really well as a winger. 
He is a dangerous threat to his opponents due to his dribbling, speed, eye for goal, and dexterity with either foot. As a result, he has scored more than 130 goals in his career and had close to 300 appearances. 
Apart from making it to the list of the highest salaries in MLS, he was also named as the best Hispanic athlete of the year 2019.
10. Sebastian Blanco – Portland Timbers – $2.85 million
(Source: MLS Players)
Sebastian Blanco is another midfielder on our list. He is an Argentine footballer who currently plays for Portland Timbers in Major League Soccer. 
The most important year in Sebastian's career was 2006 when he began his professional senior career in Lanús. Already in 2007, he was a member of the team that won the Apertura Championship, which was the first top-flight title for the club in its history. 
Sebastian Blanco just narrowly made it to the top 10 MLS soccer salaries. In 2017, he transferred from San Lorenzo, so this is his highest salary so far. 
However, we're positive that his salary is going to grow, as he is just 31 years old. Not in his prime, but he still has another good few years on the pitch. 
11. Nicolas Lodeiro – Seattle Sounders – $2.50 million
(Source: Statista)
Marcelo Nicolás Lodeiro Benítez is an Uruguayan footballer who plays as an attacking midfielder for Seattle Sounders. He is commonly known as Nicolas Lodeiro, which is how we will refer to him as well since his full name is quite a mouthful. 
Apart from playing in the MLS, Lodeiro also plays for the Uruguay national team, where he has had a total of 60 appearances and scored 5 goals. 
MLS salaries are not as high as European salaries, but Lodeiro still decided to play in the US. So far, he has built his professional career in the Netherlands, Uruguay, Brazil, Argentina, and the US. 
While he was playing at Ajax (2010-2012), he won the Dutch Eredivisie two times and also won the 2015 domestic double with Boca Juniors. That makes him one of the most successful Uruguayan players. 
12. Nani – Orlando City SC – $2.48 million
(Source: Spotrac)
Has there ever been a soccer player with a more iconic name? Nani! Plain, simple, and effective, just like his style of play. Though his full name is actually Luís Carlos Almeida da Cunha. 
However, Nani's paycheck is not plain and simple. He has one of the top MLS salaries in 2019, earning more than $200,000 every month. 
Nani is a Portuguese soccer player who has played for the national team more than 100 times. He began his professional career at Sporting CP in 2005 but moved to Manchester United in 2007. He spent 8 seasons there until he decided that it was time to move on.
Today, Nani plays as a winger for Orlando City SC, where he is much appreciated and regarded as one of the club's most valuable players. 
13. Tim Howard – Colorado Rapids – $2.47 million 
(Source: MLS Players)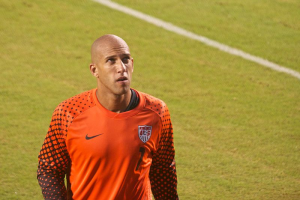 The number 13 on our list of the highest salaries for MLS players is a goalkeeper. This is to prove that goalies are appreciated and valuable as well. However, it is surprising that there isn't one higher up the list. 
Unfortunately, Tim Howard retired from football in 2019, so his place on this list next year will probably be taken by another striker or midfielder. 
He was an American player who began his professional career in 1997 at North Jersey Imperials. He played quite successfully for Manchester United between 2003 and 2007 as well but came back to the MLS in 2016 when he signed for Colorado Rapids. 
He will be remembered for his long and fruitful career with a total of 694 club and international appearances. He even scored one impressive goal for Everon, which is a huge accomplishment for a goalkeeper. 
Conclusion
As you can see, playing soccer in North America can be quite profitable. Compared to European salaries, MLS salaries are not that impressive. However, compared to the equivalents in many other popular sports, they definitely are. 
Are you surprised to find some of the players have a place on this list? Do you think other players deserve it more? Let us know what you think in the comments below!
Sources:
1. Statista
2. Marca
3. MLS Players
4. The Blue Testament
5. MLS Players
6. The Blue Testament
7. Marca
8. Statista
9. MLS Players
10. MLS Players
11. Statista
12. Spotrac
13. MLS Players