Some hate him and some love him. Still, most experts and hardcore football fans agree that he is the greatest of all time. Of course, we are talking about Cristiano Ronaldo. 
Ronaldo has had a truly remarkable career so far. He has achieved more than any other player and still has plenty of fuel to keep smashing world records and personal achievements. 
If you have a hard time agreeing with us, let's take a look at the most incredible Cristiano Ronaldo stats that will give you the low-down and change your opinion.
Ultimate Cristiano Ronaldo Stats:
Cristiano Ronaldo total goals scored:

723

Cristiano Ronaldo height:

1.87 m (6'1")

Cristiano Ronaldo weight:

84 kg (185 lbs) 

Cristiano Ronaldo net worth:

$460 million

Cristiano Ronaldo annual Juventus salary:

€31.3 million

Cristiano Ronaldo number of hat-tricks:

56

Cristiano Ronaldo total number of games:

997

Cristiano Ronaldo number of seasons as a professional player:

18

Cristiano Ronaldo Ballon d'Or wins:

5

Cristiano Ronaldo total career achievements:

91

Cristiano Ronaldo goals for Real Madrid:

451
1. Cristiano Ronaldo joined Manchester United in 2003 and Stayed for 6 seasons
(Source: premierleague.com)
Cristiano Ronaldo scored a total of 118 goals for Manchester United.
He appeared 292 times for Manchester United.
Ronaldo became the Premier League champion 3 times with Manchester United.
He was awarded a Golden Boot once and Player of the Season title two times.
Ronaldo was largely unknown when he signed in 2003 for €19 million. 
Before Ronaldo joined Manchester United in 2003, he played for Sporting CP and was far from a globally known football legend. At the time, Cristiano Ronaldo's career stats looked bleak. However, it soon became quite clear that there is something special about him.
He first entered the field as a substitute but it didn't take him long to become Alex Ferguson's first choice. He knew how to repay that trust as well by scoring six goals in the first season, 8 in the second, and 12 in the third. 
Then scoring goals for Cristiano Ronaldo became an ordinary occurrence in the 2006/2007 season. He scored 17 goals in the league and 23 in all competitions. 
When Manchester United finally won the Champions League in 2007/2008, he decided it was time to move on and Real Madrid became a part of Cristiano Ronaldo's biography in 2009.
2. Real Madrid Snatched Ronaldo from Manchester United in 2009 for €94.00 million
(Source: transfermarkt.com)
Ronaldo registered an impressive 438 appearances in Real Madrid's jersey. 
He scored an even more impressive total of 451 goals playing for Los Blancos. 
His personal achievements in Real Madrid include four Ballons d'Or, three Golden Shoe awards, and two The Best awards.
Ronaldo left Real Madrid after 9 seasons in Spain to join Juventus in 2018.
When Ronaldo joined Real Madrid on July 1, 2009, he became the most expensive player in the world. At the time, Cristiano Ronaldo's Manchester United stats looked amazing. He was already one of the best players in the world, if not the best, so this transfer didn't come as a big surprise. 
When he arrived, he was given the number 9 shirt, since Ronaldo's number 7 was already occupied by Raul. However, when Raul left the following year, the lucky 7 was in his hands once again.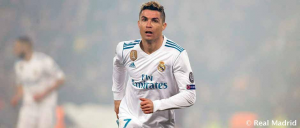 His lengthy spell with Real Madrid was full of personal and club records. He became the club's leading goalscorer, which is a feat that is not likely to be met any time soon by another player. 
Many of these goals were actually hat-tricks. Therefore, he also holds the record for the highest number of games in which a player scored three or more goals in LaLiga's history. His count is 34. 
What team does Ronaldo play for now? All good things must come to an end, so Ronaldo accepted Juventus's offer in 2018 and packed his bags to go to Italy.
3. Cristiano Ronaldo Moved to Juventus for €100 Million
(Source: theguardian.com)
Ronaldo signed a 4-year deal with Juventus worth over €600,000 a week.
So far, he appeared a total of 72 times for the "Old Lady."

Cristiano Ronaldo's all-season stats

include 52 goals for Juventus thus far.
Cristiano Ronaldo is the only player to have played for the three of the best European teams: Manchester United, Real Madrid, and Juventus.
Ronaldo left Real Madrid as the best goalscorer in the world, so he had a lot to prove in Serie A. He had a rough start but still managed to meet the expectations of fans, eager for his best performance. 
He completed his first season in Turin with 28 goals across all competitions, which is certainly impressive. However, it wasn't enough to be on par with the efforts of Fabio Quagliarella, Duvan Zapata and Krzysztof Piatek who found the net more times.
During the 2019/2020 season, Cristiano Ronaldo's Juventus stats became richer for another 23 goals. Three of those goals were from a hat-trick, which is his specialty. 
When asked why he decided to leave Real Madrid and join Juventus, Ronaldo said that he liked the atmosphere in the club and just wanted a change. However, after he was substituted two times in a week in November 2019, he stormed down the tunnel which caused quite a stir in newspapers.
4. Cristiano left Real Madrid with four Champions League crowns and three Club World Cups
(Source: realmadrid.com)
Ronaldo scored 44 hat-tricks during his 9 seasons with Real Madrid.

Cristiano Ronaldo's goals stats

are impressive, but he was also one of the most productive players on the field with 119 assists. 
The "Rocket Ronaldo" added a total of 16 titles to his list of achievements while playing in LaLiga.
Ronaldo spent a total of 37.833 minutes on the field representing Real's jersey.
When we take a look back at Christiano Ronaldo's stats during his time with Real Madrid, they are genuinely hard to believe. 
Many experts argue that he is the best player Real has ever had. Of course, everyone will remember the likes of Alfredo Di Stefano, Raul, Zinedine Zidane, and Roberto Carlos. However, Ronaldo must be crowned the GOAT after all that he managed to achieve.
Namely, Real Madrid snatched four consecutive European Cups trophies under Ronaldo's leadership between 2013/2014 and 2017/2018. They also won three Club World Cups with him in the roster. 
But, Cristiano Ronaldo's Real Madrid stats do not stop there. If that's not enough, Ronaldo also helped his old teammates win three UEFA Super Cups and take two LaLiga titles home. Therefore, he's done more for the team than any other player before.
He did a lot for his career as well, picking up four Ballons d'Or and three Golden Shoes. 
5. Ronaldo Won the Serie A Title During His First Season with Juventus
(Source: givemesport.com)
Ronaldo won the Serie A MVP award during his 1st season with Juventus. 

Some of

Christiano Ronaldo's best goals in the 2018/2019 season directly won 16 points for Juventus and massively contributed to the Serie A title win.
Since Ronaldo joined Juventus, the club's shirt sales have reached a profit of more than €100 million. 
Even though Ronaldo has had some ups and downs in Juventus during his first two seasons, he has done a great job overall. As a result, he was awarded the MVP title, which is his first one in the Italian top division.
He won the award based on his achievements during the 2018/2019 season and his contributions to the team. Cristiano Ronaldo scored 22 goals this season and made 11 assists. 
Apart from that, since arriving in Italy in 2018, Ronaldo has managed to single-handedly revamp the Juventus brand and help bring its old glory back. 
Namely, apart from excelling on the pitch, he is stellar off it as well. The major sponsors have announced extensions of their deals with The Old Lady: Allianz, Adidas, and Jeep. All of them have bumped up their offerings to make sure they stay in the game.
6. Cristiano Ronaldo Earned €100 Million from Playing Football in 2019
(Source: forbes.com)
Ronaldo is the second-highest-paid athlete in 2019

, just behind Lionel Messi.

He earns €40.5 million in endorsements from having signed with some of the world's biggest brands.

One of the most incredible

Cristiano Ronaldo stats

is the one regarding the record-breaking lifetime deal with Nike worth an estimated €1 billion. 
Ronaldo's legs were insured for €132 million while he was playing for Real Madrid.
One of the best things about being the best football player in the world is that you become a money-making machine. Every company in the world would like to have your face on their products, and they are willing to pay millions for it. 
That's exactly what happened to Cristiano Ronaldo. He earns around €100 million a year in total, €60 million of which come from his salary at Juventus, whereas the rest is from numerous endorsements. Ronaldo's stats for 18/19 will certainly help him land more sponsorship deals.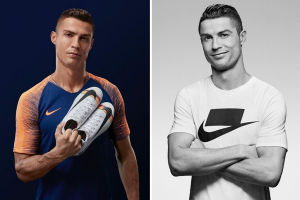 Right now, some of his biggest and highest-paying sponsors include Nike, Tag Heuer, MTG, Herbalife, Electronic Arts, DAZN, and Altice. 
His €1 billion deal with Nike was signed in 2015 and will probably prove to be a bargain. He also joined the PokerStars team in May 2015 since he loves gambling (responsibly, of course). However, the details of that contract are still unknown. 
Cristiano Ronaldo's biography book (if he ever writes one) will also include his own line of Nike football boots and casual sneakers, which have proved to be a profitable endeavor as well.
7. Ronaldo Has Scored 145 Goals in UEFA Competitions Becoming the Top Scorer of the Decade
(Source: planetfootball.com)
Ronaldo's hat-trick for Juventus helped the team win despite Atletico's initial 2:0 lead and helped him become the top scorer in UEFA with 127 goals at the moment. 
He scored 124 of those 127 goals in the Champions League — 18 more than Lionel Messi. 
Ronaldo did not score any goals in Champions League until his 30th game. That means he scored 100 goals in just 114 games. 
Cristiano Ronaldo's goals in CL include 8 hat-tricks, which is a tie with Leo Messi. 
Cristiano Ronaldo did not manage to beat Lionel Messi when it comes to the Ballon d'Or wins, but he dominated the field when it comes to success in UEFA competitions. 
Cristiano Ronaldo's all goals count for the previous decade was 145, which is a 44-goal lead against Bayern Munich's Robert Lewandowski. Lionel Messi had to settle for the third place and 99 goals in the net.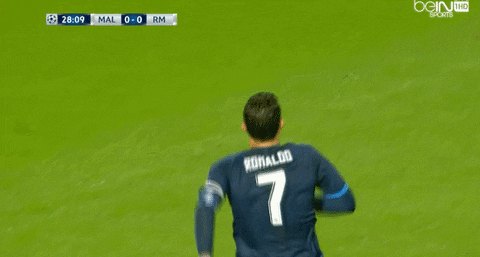 However, it's important to note that Ronaldo scored these goals in the following competitions: Champions League, UEFA Super Cup, European Championships, UEFA Nations League, and the European Championship Qualifiers. 
Since Messi plays for Argentina, which is a South American country, he could not participate in many of these tournaments. Still, even if he did, Cristiano Ronaldo vs Messi stats would probably not look much different, as most of his goals were scored in the Champions League.
8. Cristiano Ronaldo Is the King of Social Media with More than 400 Million Followers
(Source: besoccer.com)
Cristiano Ronaldo has 203 million followers on Instagram — the most on the planet.
One paid post on Ronaldo's Instagram account is worth around €900,000.
Ronaldo's Instagram following nearly doubled between October 2017 and February 2020 — from 113 million to 203 million.
Cristiano Ronaldo leads in the number of social media interactions as well — 887 million so far.
We live in the age of social media where the following you have is one of the factors that show how successful you are at what you're doing. Being the best football player in the world naturally comes with a massive number of followers. 
Ronaldo's most popular platforms are Instagram, Facebook, and Twitter, where he amasses a total of 400 million followers and counting.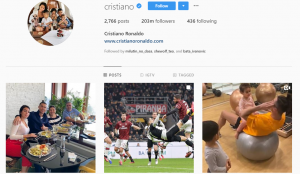 Looking at his Instagram account, there is nothing out of the ordinary that would imply you've found yourself on the most popular page on the internet. It's a mixture of Ronaldo's Juventus goals, family moments, selfies, and sponsored posts. 
However, one of the things that set him apart from other popular social media pages is the number of interactions on his posts. Ronaldo's fans seem to be the most eager to like, comment or share what he's posting.
FAQ:
Q: How many goals has Cristiano Ronaldo scored so far in his career?
A: Cristiano Ronaldo has scored a total of 723 goals in his entire career. That makes him the best goalscorer in the modern history of football.
Q: How many Ballons d'Or has Cristiano Ronaldo won?
A: Cristiano Ronaldo has won the Ballon d'Or five times so far.
Q: How much does Cristiano Ronaldo earn a year?
A: Cristiano Ronaldo earns €31.3 million a year from his contract at Juventus. He earns another €40 million from endorsements.
Q: In how many teams has Cristiano Ronaldo played so far?
A: So far, Cristiano Ronaldo has played in four football teams: Sporting CP, Manchester United, Real Madrid CF, and Juventus. Check out our Cristiano Ronaldo stats to see all the achievements he made in each.
Q: How many titles has Cristiano Ronaldo won so far?
A: Cristiano Ronaldo has won 34 titles so far: 3 National Team Tournaments, 12 International Tournaments, and 19 National Tournaments and Cups.
Sources:
1. PremierLeague
2. Transfermarkt
3. TheGuardian
4. RealMadrid
5. Givemesport
6. Forbes
7. PlanetFootball
8. Besoccer
9. GIF Sources – GIPHY