Betting on sports is a pastime as old as sports. Over time it has expanded to non-athletic events such as eSports, reality shows, award ceremonies, political elections and even pre-determined sports entertainment attractions like WWE events.
Sports betting has become big business and with the advent of the internet, online sports betting has become an even bigger business. The following sports betting stats will give you an idea of just how big this phenomenon has really become. 
Ultimate Sports Betting Stats

:
Global value of online sports betting

– $46 billion

Global value of overall sports betting

– $250 billion

Leading online gambling firm by market value

– Paddy Power Betfair ($10 billion)

Amount spent on legal sports betting globally

– $70 billion

Over 50% of US citizens

admitted to placing a bet on a sporting event at least once in their life.

eSports have

grown more in terms of betting volume

than any other sector of sports betting.

Sports betting accounts for

over 40% of global gambling revenue

.
1. The sports betting market will grow by $144.44 billion between 2020 and 2024
(Source: Technavio)
Sports betting accounts for

over 40% of global gambling revenue

.

The year-over-year

growth rate for 2020 is estimated at 12,91%

.

49% of the growth

will originate from APAC (Asia-Pacific) countries.

The projected growth rate of

Asia's sports betting market outpaces any other region in the world

.

The

increasing legalization of sports betting

will create new growth opportunities for market vendors.
The commercialization of popular sports events such as the NFL SuperBowl, UEFA Champions League, NBA Playoffs, MLB World Series and WWE Wrestlemania has grown significantly in recent years. They attract massive consumer and media attention, which makes wagering on their outcomes a lucrative prospect and creates more engaged consumers.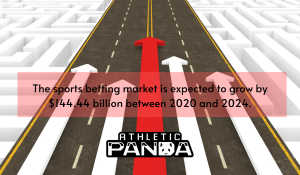 Sports betting facts show that this symbiotic relationship has fuelled the sector's growth and turned it into a billion-dollar industry. This has been crucial in developing the brand equity of vendors like BetWay, Bet365, and Sky Bet. 
The legalization of sports betting in more global regions — paired with the surge of online betting — will have a positive impact on the market and contribute to its growth significantly over the forecast period.
2. The APAC region was the largest sports betting market in 2019
(Source: Technavio)
China and Singapore

are the key markets for sports betting in the APAC region. 

The APAC region is responsible for

47% of all the world's sports wagers

.

The island of

Macau in China

is the

world's largest gambling center.

 

The region is thriving off of the rising popularity of various

online platforms for sports betting

.
The rising popularity of online platforms for sports wagers and the increasing demand for leisure activities have significantly influenced the growth of the market in this region.
Sports betting stats and trends show that Singapore and China are at the forefront of the APAC region's growth. The government of Singapore, in particular, has relaxed laws related to online gambling which is why its popularity has grown there. 
Beijing, on the other hand, has a complicated relationship with gambling. Most online and live gambling is still outlawed in mainland China but Macau is a gambling haven. Sports gambling statistics show that 50% of Macau's revenue is made up of gambling alone and in 2018, the former Portuguese colony made $38 billion in gambling revenue.  
3. America has the fastest growing sports betting market
(Source: Sportsbettingdime)
The US sports betting market has a

market cap of between $60-73 billion

.

The market has grown at a

rate of $10 billion per year

.

Over 50% of US citizens

admitted to placing a bet on a sporting event at least once in their life.

American sports betting is projected to account for an

increasingly significant share of the world market

.
Sports betting is a complex and complicated issue in the United States. It's still outlawed in most of the country, with only 18 of the 50 states having officially legalized it, according to sports gambling facts.
The issue has gotten even more complicated since all four major American sports leagues (NFL, NHL, NBA, and MLB) decided to embrace Daily Fantasy Sports in 2014 — which is described by those inside the industry as "almost identical to a casino". 
Public opinion is split on the matter but despite all the issues, world sports betting statistics suggest that the US is still one of the leading gambling capitals in the world. In 2009, the sports betting market in the US was valued at $20 billion.
By 2016, it was valued at $40 billion. Increased wealth and the ever-growing expansion of easily accessible internet connectivity ensures that America will continue to be a power player in the sports betting game. 
4. The fastest-growing sector of sports betting is eSports
(Source: Sportsbettingdime)
eSports have

grown more in terms of betting volume

than any other sector of sports betting.

eSports are projected to generate upwards of

$1.5 billion in revenue this year.

One of the key drivers is the

rising commercialization of eSports events

. 
For those unfamiliar with the concept, eSports are organized, multiplayer video game competitions which involve professional players. 
The popularity of battle royale-style games like Fortnite and League of Legends has led to a significant cash injection and media blitz into competitive gaming, which has attracted bettors to this new pot of gold. 
Sports betting information shows that Fortnite even has its own World Cup streamed globally, with the winner walking away with $1 million. But eSports aren't limited to just games like Starcraft and Player Unknown Battleground, according to Technavio, the increased popularity of eSports is pushing bookmakers to allow bets on many different esports matches. 
This growing volume is driving revenue generation across the entire sports betting industry.
5. Billy Walters, Tony Bloom and Zeljko Ranogajec are the three biggest sports bettors in the world
(Source: Smartsportstrader)
Billy Walters

has long been known as one of the

biggest sports bettors in Las Vegas

.

Tony Bloom

is the owner of UK based

betting syndicate Starlizard.
Starlizard

is known to stake as much as

£1 million on the outcome of a single match

, according to

football betting statistics

. 

Zeljko Ranogajec

is an Austrian blackjack wizard whose chosen

sport to bet on is horse racing.
Successful sports bettors don't often clamor for attention but there are a few that are known to the media purely based on the sheer amount of money they earn through their betting. 
Billy Walters has made millions over the years from sports betting, his operation in early 1980s Las Vegas was documented in the book "The Smart Money" by Micheal Konik. The author goes into great detail about Walters' operation, his methods, struggles and the lengths he went to to be successful. 
Tony Bloom made most of his money betting on football games, with his veteran gambling skills and a keen sense of sports betting statistical analysis bringing him millions of pounds of revenue over the years. Enough to buy him a large stake in English football club Brighton, which he also chairs. 
Zeljko Ranogajec is said to have turned a bankroll of a couple of hundred dollars into millions on the blackjack table thanks to a strategy called 'advantage play'. Nowadays he makes his money betting on horseracing, and his turnover reportedly accounts for a third of the total for Betfair in Australia.
6. In-play betting is the most popular form of sports betting
(Source: Springer)
A research

study examining 388 sports betting sites

found that

26% of them offered at least one in-play betting feature.
Bet365

reports that

80% of all their sports betting revenue

is derived from in-play bets alone.

In the UK, up to

25% of online gamblers have placed a bet in-play

.
One of the more newly introduced forms of online sports betting is in-play sports betting, or betting within a sporting event. In-play sports betting features (e.g. 'cash out') are becoming more popular amongst online gambling operators. 
In-play betting allows the sports bookie to increase the options for betting during a sports event, enabling gamblers to place bets based on different types of in-game activities.
Sports betting odds and stats conclusively show that the structural characteristics of in-play sports betting have changed the mechanics of gambling for sports bettors, enabling them to place a larger number of bets during a single game (as opposed to a single bet on who is going to win).
7. Over 45% of all sports bets are placed via mobile phone
(Source: Sportsbettingdime)
Online sports betting accounts for

37% of the annual online gambling market in Europe

.

Online sports betting is the

fastest-growing segment

. 

Online sports betting statistics

show that the market is projected to grow at a

CAGR of  8.77%.

Soccer remains the

most popular sport to wager on for online betters

.
All market research and sports betting statistics points to one thing behind the continued popularity of sports betting: the digital revolution. It's never been easier for people around the globe to connect to the internet, and subsequently, start betting via sportsbooks.
The massive projected growth figures for sports betting are in large part due to the proliferation of internet around the world, and sportsbooks' subsequent investment in their digital platforms, as a response to the demand for online sports betting. Bettors are seizing new opportunities made available by these advances.
For the bookmakers, that means less money spent on brick-and-mortar stores and employing cashiers. For the customers, it equals more resources focused on providing them with fast and reliable services, new technologies and innovative ways to bet.
8. In the UK, online betting companies have become inextricably linked with football
(Source: The Guardian)
Half of the

English Premier League's 20 clubs

have a

gambling sponsor on their shirt

.

The National Second Division is itself

sponsored by Sky Bet

. 

EPL club

Stoke City

are owned by the Coates family, who also own

Bet365

. 

The chairman of English team

Brighton

is a famed professional gambler and

renowned sports bettor Tony Bloom

.
Many online sports betting companies sponsor different teams as part of their marketing initiatives and strategic expansion. This practice is the most prominent in the English Premier League. Even though the UK sports betting industry recently volunteered to stop advertising during games, football fans are still inundated with advertising before and after games. 
It's no wonder that sports betting stats revealed that between 2016 and 2017 football had a total gross gaming yield of £786 million. 
In fact, a recent study conducted by the University of London on three episodes of BBC's flagship football highlights program Match of the Day found that gambling logos or branding appeared on screen for between 71% and 89% of the show's running time. 
This extends to the UEFA Champions League too, Bwin attained global recognition through high-profile sponsorships with Real Madrid and AC Milan. Similarly, for the 2018 Soccer World Cup, GiG launched an advanced and innovative platform for sports betting during the tournament. 
FAQs
Q: Who is the best handicapper?
A: Kyle Hunter is considered, by many, to be the best sports handicapper with a great amount of experience breaking down the game in every single manner possible. Totals are Kyle's specialty, so look for a lot of winning sports betting advice from him in NBA, NCAA Football, NCAA Basketball, and the NFL.
Q: How do you read Vegas odds?
A: Vegas odds are expressed as chance, 1to1, that is one chance for winning and one chance against winning. Here's a more in-depth breakdown, with pictures and everything.
Q: How do you handicap an NFL football game?
A: You need to gain a thorough understanding of these five concepts: Look for the opening odds, check if the team has a home-field advantage, scout for any potential matchup advantages and look for recent play.
Q: What are the best odds in sports betting?
A: The best betting odds have the lowest margins, i.e, the lowest cut taken from your bet.
Q: What is the best site for sports betting?
A: UK-based Bet365 is considered by most to be the top online bookmaker for sports betting, according to sports betting stats.
Sources
: 
1. Technavio
2. Technavio
3. Sportsbettingdime
4. Sportsbettingdime
5. Smartsportstrader
6. Sportsbettingdime
7. Springer
8. The Guardian