The state of New Jersey is one of the best places for gamblers in the United States. Since the legalization of online casinos a few years ago, the revenues from this sort of gambling have skyrocketed and the casinos and sportsbooks are announcing record-breaking figures month after month.
Experts suggest that the year 2020 might be another great year for gambling establishments in the state, as January numbers already look very promising. With that said, here are some of the most interesting New Jersey gaming industry stats for the past several years.
Enjoy!
Ultimate New Jersey Gaming Industry Stats:
In January 2020, online casino revenue reached $55 million.
New Jersey sports gambling revenue is more than $447 million as of January 2020.
$6.3 billion have been spent on sports wagers since June 2018.
72% of all revenue made in Atlantic City casinos in 2019 or $1.92 billion came from slot machines.
Sports betting was legalized in New Jersey in June 2018.
1. January 2020 Was a Record-Breaking Month for New Jersey Casino Sites
(Sources: PlayNJ, Statista)
Online casino revenue in January 2020 was

$55 million

.

Golden Nugget

, together with its subsidiaries, made a profit of

$21 million

.

New Jersey

poker

room revenue in January of 2020 was

$1.8 million

.
As we mentioned, the year 2020 is likely going to be even more profitable for New Jersey casinos than some of the previous years. Both online, as well as "brick and mortar" casinos are on the rise, and so is sports betting.
The total NJ online gaming revenue in January 2020 was over $55 million, almost double than what it was in January 2019. This was by far the most profitable month for NJ casinos since their launch in December 2013.
The top dog in the New Jersey online gaming landscape today is Golden Nugget, a brick and mortar casino. Its parent company is the same as that of several online operators like Betfair, BetAmerica, and SugarHouse. Together, these four casino services have accumulated more than $21 million in casino revenue over the first month of 2020.
Apart from them, the second most successful enterprise is Resort AC alongside its subsidiaries DraftKings and PokerStars, who have together recorded online gambling revenue of nearly $12 million over the month of January.
Borgata Casino that once held the largest market share of all casino game companies in New Jersey had a total gaming win of over $10 million for the same month together with Party and BetMGM.
Other notable companies on this list include Tropicana and Virgin ($4.3 million), Caesars, Harrah's, and 888 ($4.2 million), HardRock, Unibet, and Bet365 ($2.4 million), and Ocean Casino and Parx Casino ($531,343).
Over 95% of the revenue for January 2020 came from casinos, while the remaining part is credited to poker rooms. 888Poker ($718,307), PokerStars ($635,011), and Party Poker ($478,893) are among the most successful poker operators in the state right now.
2. Atlantic City Land-Based Casinos had a Revenue of $192 Million in January, Crushing the Record from Last Year
(sources: PlayNJ)
Land-based casinos in AC made a revenue of

$177 million

in

January 2019

.

The revenue in

January of 2018

was

$162 million

.

The most profitable casino was

Borgata

with

$54.6 million

in total gaming win.
As you all probably know, the land-based gambling industry in New Jersey is mostly associated with Atlantic City, which is basically the Las Vegas of the East Coast. Here is where you can find all the most popular casino resorts and enjoy top-shelf casino entertainment alongside 5-star accommodation.
The Atlantic City casino revenues have been steadily rising in the last twelve months. Total gaming win for January of 2020 was just over $192 million, which is an increase of $15 million compared to January of last year. This was also a record-breaking figure for any month of January since casinos have been legal in the city.
However, things are really expected to kick off during the summer months when casinos attract more visitors than at any other time of year. For July and August each, the total gaming win is expected to be more than $300 million.
By far the most successful land-based casino in Atlantic City for the past month is Borgata, collecting a total revenue of $54.7 million. They generated a revenue of over $38 from slot machines alone, which is almost twice as much money as every other casino's total gaming win.
For example, second on the list is Harrah's Casino with a revenue of $23 million, followed by Hard Rock Casino ($21 million), Tropicana ($20 million), and Caesars ($17 million). Other popular casino establishments in the city include Bally's, Golden Nugget, Ocean Resort, and Resorts Casino.
As you might have expected, video slot machines account for the majority of total revenue. Out of $192 million for the month of January, slot machines were responsible for $140.3 million, followed by table and card games ($48.6 million) and poker rooms ($3.1 million).
3. Slot Machines Made Almost $2 Billion in Atlantic City Casinos in 2019
(sources: NJ Gambling Websites, PlayNJ) 
Total gaming win in AC casinos in 2019 was $2.68 billion,

$1.92 billion

of which came from

slot machines

– 72%.

Slot machines were responsible for a

$900 million profit in 2018

, more than

100% less than in 2019

.

Video slots

brought AC casinos a revenue of more than

$140 million in January of 2020

.

Borgata Casino

earned

$38 million

from slots in the first month of 2020.
It's no secret that slot machines are the most popular form of gaming in casinos. There are several thousand slot machines in Atlantic City casinos, and almost all of them have hundreds on their main floors. Tropicana Casino alone stores more than 3,000 machines.
The reason people love playing slots in New Jersey casino rooms (and anywhere else in the world for that matter) is logical. Video slots are the simplest form of casino games. You don't need to learn complicated rules or even know how the game pays up. You just need to insert your coins and press the spin button. If you're lucky enough to land the right symbols on the reels, you can win a huge prize.
Speaking of prizes, they are another reason why slots are so popular in Atlantic City. Jackpots can be worth several million dollars, so people find the fact that they can become a millionaire overnight rather attractive.
Slots bring the most value to land-based casinos, which is proven by the fact that 72% of all revenue made in Atlantic City casinos in 2019 came from these games. A total of $1.92 billion was made from slots in 2019, more than twice as much when compared to a year before.
The most successful slot operators in January of 2020 were Borgata ($38 million), Harrah's ($17.7 million), and Tropicana ($16.9 million).
4. Sports Wagers in New Jersey Handled over $6.3 Billion Since Legalization in 2018
(sources: PlayNJ)
Sports betting was

legalized

in New Jersey in

June 2018

.

Sports betting revenue

since launch:

$447 million

and counting.

Meadowlands

with its subsidiaries

FanDuel Sportsbook

and

PointsBet

are the most successful NJ bookie group in

January of 2020

, with over

$22 million

in revenue.
Sports betting is the newest form of legal gambling in the state of New Jersey, being launched in June of 2018. Since then, there have been more than $6.3 billion spent on all kinds of sports wagers.
As of January of 2020, the total New Jersey sports gambling revenue has surpassed $447 million, while the sports betting taxes accounted for $53.5 million since launch.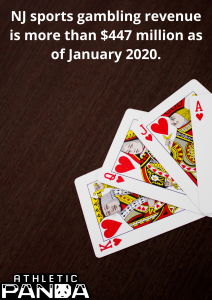 Just like with any other form of gambling in New Jersey, January of this year was a record-breaking month when it came to sports wagering. The bookies handled more than $471 million in bets and collected a revenue of $46.6 million. Naturally, autumn, winter, and early spring is the time when sports betting is on the rise, while sportsbooks record much smaller revenue during summer months at the time of the off-season for most professional sports.
The most successful sports betting companies in the state for January 2020 include Meadowlands / FanDuel Sportsbook / PointsBet with $22.2 million in revenue, and Resorts / DraftKings Sportsbook / Fox Bet with $15,9 million. They account for around 80% of all sports betting revenue in New Jersey, as no other companies reported more than $3 million in earnings.
Today, there are 10 retail bookies that you can visit in Atlantic City casinos, while there are also 17 sports betting apps you can use on your mobile devices.
5. New Jersey Revenue Report for Online Casinos in 2019 Says That Golden Nugget and Betfair Have Been Most Successful
(sources: Statista)
Golden Nugget and Betfair

collaboration topped every other online casino in 2019.

The month of

November

brought Golden Nugget and Betfair a total of

$19 million

in revenue.

Resorts AC is the second most successful online casino in the state.
It's safe to say that 2019 was a very successful year for New Jersey casino companies. The most successful of all was the joint collaboration of Golden Nugget and Betfair that have been the online casinos of choice for most New Jersey gamblers in the past year.
Month after month, these two have accounted for more than a third of all online gaming revenue in the state. Their most successful month was November when they reported a revenue of nearly $19 million, almost twice as much as Resorts AC that was second on the list with $10.5 million.
Other top online casinos in 2019 included Borgata/Party, Caesars/Harrah's/888, Tropicana/Virgin, Hard Rock AC, and Ocean Resort.
2019 has really been a breakout year for online casinos in New Jersey. However, this has not been much of a surprise, considering that the online gambling market in the state grew in the last several years as well.
(Sources: NJ.gov, NJgames.org)
The

Golden Nugget

had the biggest market share in 2018 with

33%

.

Borgata

was second in market share in 2018 with

19%

.

In

November of 2019

,

Golden Nugget

had a market share of

38.5%

, followed by Resorts Casino with

22.4%

.
A lot has changed in the structure of online gambling revenue and market share in New Jersey over the last several years. New Jersey's Division of Gaming Enforcement releases stats after each calendar year, and it's really interesting to look at the numbers.
In 2014, Borgata recorded a staggering $93.3 million in total revenue, which has by far been their most successful year. Next year, they faced a decline of nearly 50%, and only reported revenue of $50 million. However, they have been on a steady rise ever since, with 1.1%, 4.1%, and 11.2% year-over-year growth respectively.
Caesars Casino had a similar growth trend to the one of Borgata. After an incredibly successful 2014 with $74.4 million in their pockets, they faced more than a 50% decline in 2015, but have been on the rise in the last four years.
Unlike these two, Golden Nugget online revenues have been growing with each passing year since 2014. After only having $11.6 million in revenue in 2014, they recorded nearly ten times as much in 2018 and broke the $100 million mark.
Tropicana Casino has been the most steady when it comes to year-over-year growth. In each of their last five years, they recorded revenue of between $30 million and $45 million. They had their first negative YoY growth in 2018, as they earned 3.6% less than the year before.
Resorts Casino only started operating in 2015, when they had revenue of just over $7.5 million. Naturally, 2016 was much more successful for them, as they had a $34.5 million in profits, an incredible 361% difference. They topped that in the next three years as well, and are slowly becoming one of the top New Jersey online gaming businesses.
The market share of NJ online casinos changed drastically when compared to 2014. During that year, the most dominant forces on the online casino landscape in New Jersey were Borgata with 42% market share and Caesars with 34%. Tropicana had a 14% market share, while the remaining 10% was divided between Golden Nugget, Trump Plaza, and Trump Taj Mahal.
Borgata held the biggest market share for the next two years when the first place was taken over by the Golden Nugget. The year 2017 was probably the most evenly distributed when it comes to market share, as Golden Nugget held 28%, followed by Borgata with 20%, Caesars AC with 18%, and Resorts and Tropicana casinos with 17% each.
In late 2019, the stats showed that Borgata (38.5%), Resorts Casino (22.4%), and Borgata (16.7%), had the biggest market share among online casinos in New Jersey.
New Jersey Gaming Industry Stats: What Does the Future Hold?
Considering that online gaming in New Jersey has been on the rise in the last several years, it is only natural to assume this trend will continue throughout the next couple of years.
The gross gaming revenue from online casinos in the state has only gone up, with January of 2020 breaking another record with $55 million. Will the following months top that number? Probably.
For now, the online gaming industry in New Jersey is looking as healthy as ever. Moreover, several more casinos are expected to show up in the next few years and enter what's becoming a very competitive market.
If you're a resident of this state and you like gambling over the web, you should feel lucky that there are so many options where you can enjoy your favorite casino games as well as sports betting. These forms of gambling are still relatively new in New Jersey, so the future can only bring more advanced casinos and sportsbooks to the table. It will also be interesting to follow up on New Jersey gaming industry stats in the next several years.
FAQ
Can you gamble online in NJ?

New Jersey is only one of few US states that has a regulated and legal online gambling industry. All operators that offer online gambling services for the residents of New Jersey have their partners in one of Atlantic City's top casinos. You should also know that the minimum gambling age in New Jersey is 21.

Can you win real money on online casino games?

Yes, every game on which you deposit real money can bring you a huge win. Online casinos accept all sorts of payment methods like credit cards, checks, bank wires, and even cryptocurrency in some cases. You can use all of these methods to both deposit and withdraw your potential winnings.

How can I play casino games online?

Go to one of the top NJ casino sites and make an account by leaving your personal details such as your date of birth, residential address, email address, etc. Once your information has been verified, you would have your own unique online casino account. Deposit some money on the website's cashier page using one of the available payment methods. Once that money goes through, you can choose any of the real-money games which that site offers.

What is the best game to play at the casino to win money?

Most casino games are games of chance, meaning that you will need a lot of luck to win at them. The biggest jackpots can be won on progressive video slots. One spin of the reels can win you several million dollars. Of course, other games like roulette, baccarat, and blackjack can carry big wins as well. If you feel more comfortable playing skill-based games, you should try poker. Poker players who are good at the game even play professionally and win millions of dollars over the course of their careers.
Sources
:
1. Play NJ
2. Statista
3. NJ Gambling Websites
4. Government of New Jersey
5. NJ Games