In baseball, hitters are the players who make the sport attractive, but pitchers are the ones who win championships and trophies. That's why we've decided to write about the 21 best pitchers of all time today.
Baseball is the most popular sport in the USA and one of the most popular sports in the world. Over the history of Major League Baseball (MLB), there have been some truly spectacular athletes. All the players we will mention today are huge legends that every baseball fan knows about. 
Comparing players who compete in a sport in a time frame longer than 100 years is not easy. The rules and the propositions of the sport are constantly changing and adapting. 
Yet, we will try to present to you our objective opinion of the best MLB pitchers of all time. Enjoy!
1. Walter Johnson (1907 – 1927)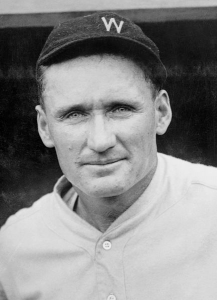 (Source: BleacherReport)
Kids today might not know a lot about Walter Johnson. They might not care too much about what he did for the sport. However, all old-school MLB fans definitely know how unique of a player he was. 
Walter Johnson spent 20 years playing baseball professionally for the Washington Senators. During that time nobody could compare to him. He is by far the best baseball pitcher of all time.
During his career, he took home six wins titles, 12 strikeout titles, and five ERA titles. That's a feat worthy of respect. He also dominated the 20-win mark 12 times and achieved more than 30 twice. 
2. Christy Mathewson (1900 – 1916)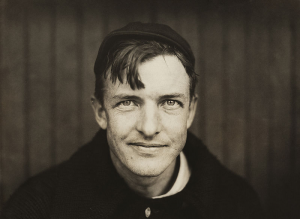 (Source: TheDelite)
Christy Mathewson is another MLB legend who played roughly around the same time as Walter Johnson. Baseball fans were torn between the two 100 years ago, and many of them still are. Mathewson, just like Johnson, was one of the best baseball pitchers of all time.
He first played for the Reds, until he was acquired by the Giants, where he spent the rest of his lengthy and fruitful career. 
Some of his greatest achievements include:
Four wins titles

Five ERA titles

Five strikeout titles

Two pitching triple crown wins
Apart from these, we can also say that he won the 1905 World Series almost all by himself. 
3. Mariano Rivera (1995 – 2013)
(Source: TheSportHQ)
Mariano Rivera is, without a doubt, one of the best relief pitchers of all time. There are few pitchers in the history of the sport who can boast with a better ERA than Mariano's 2.21. Moreover, his 1.000 career WHIP is the third-best in MLB history.
During Rivera's time at the New York Yankees, his team won the World Series five times. Anyone who says he was not the most meritorious for that score would be lying. 
Apart from these achievements, Mariano Rivera also has 652 career saves, which is more than anyone else ever. And if that's not enough to convince you he deserves the third place on our list, consider that he was the only player to be admitted to the Hall of Fame with a 100% vote.
4. Clayton Kershaw (2008 – Present)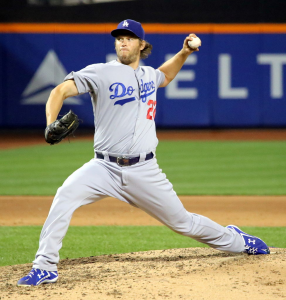 (Source: BleacherReport)
Let's take a trip to the present times and take a look at one of the best pitchers in MLB right now. Of course, we're talking about Clayton Kershaw. 
Kershaw is 31 years old at the moment, but he is still able to easily dominate the game. He performed really well during the last season and nothing less is expected from him in the following seasons as well. 
However, at the moment, Kershaw is struggling with some stubborn injuries, so it is questionable whether or not he will be on the mound during the next season. He is struggling with back issues, biceps tendinitis, and a sore left shoulder.
5. Pedro Martínez (1992 – 2009)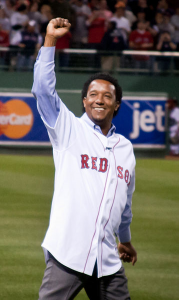 (Source: SportsCasting)
If we were to only look at the win total, Pedro Martinez would not be on par with some of the players at the top of our list. However, he is still one of the best MLB pitchers for the following reasons:
His average line was 17-5

His ERA was 2.20

He achieved 252 Ks

He won five ERA titles
Apart from all of this, some additional Pedro Martinez stats include winning three Cy Young awards and winning the pitching Triple Crown in 1999.
Martinez is also one of the GOATs because he won 69% of his career decisions, which is the seventh-best score of all time.
6. Tom Seaver (1967 – 1986)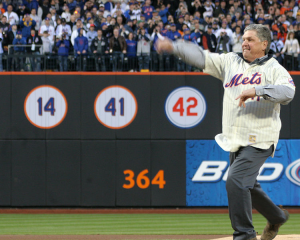 (Source: Goliath)
Tom Seaver played during the best pitching era in the history of MLB. During the 1970s, he achieved more than 100 victories which is worthy of respect. On top of that, during his career, he won the NL Cy Young award three times and Rookie of the Year award once. 
All of these achievements are good reasons for some to call him the greatest pitcher of all time. Though that's too far fetched, we agree he is one of the legendary names.
Some other achievements that put him at the top include:
Winning three Wins titles

Winning three ERA titles

Winning five Strikeout titles
He also greatly helped the Miracle Mets reach the 1969 World Series title.
7. Grover Cleveland Alexander (1911 – 1930)
(Source: TheSportHQ)
One of the best ways in which we can describe the MLB career of Grover Cleveland Alexander is total domination. In 1926, his pitching helped the St. Louis Cardinals win the World Series with a bang.
Old Pete, as he was called by fans and teammates, was one of the most famous baseball pitchers thanks to his charisma and attractive playing style.
Over his career, Pete has posted 90 complete-game shutouts, which is the second-best achievement in baseball history and the best in National League history.
He is also unique for being the only player to dominate the league for seven seasons when it comes to innings pitched.
8. Sandy Koufax (1955 – 1966)
(Source: TheDelite)
If we were to choose one baseball player to serve as a reference point for choosing the best pitchers of all time, that would definitely be Sandy Koufax.
Koufax destroyed his opponents every time he entered the field during the 1960s and achieved a record of 97-27. In addition, he also has a 1.86 ERA and 1,228 Ks. 
During the 1960s, Koufax also received three Cy Young awards and one NL MVP award. Not many players in the history of MLB can boast with such an achievement. 
Sandy was also one of the best left-handed pitchers of all time until he started to develop arthritis in his left arm when he was just 30 years old. Sadly, that meant that he had to end his career prematurely. 
9. Mordecai Brown (1903 – 1916)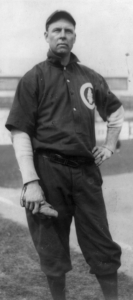 (Source: BaseballEgg)
Mordecai Brown has one of the most interesting stories in the history of MLB. Namely, when he was a kid, he lost two fingers on his right arm in a farm machinery accident. However, he did not let that stop him from achieving his dreams. 
Instead, he used his handicap to his advantage. His three-fingered hand helped him develop a nasty spin that made his pitches incredibly effective and hard to hit.
Mordecai used that curveball to reach a 2.06 ERA and become one of the best MLB pitchers ever. 
"Three Finger" as he was also called, won two World Series titles with Chicago Cubs and had a WHIP of 1.066. 
10. Cy Young (1890 – 1911)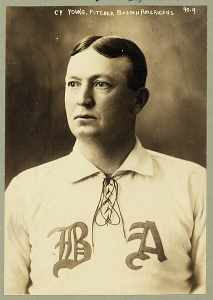 (Source: AthlonSports)
Cy Young is the name that you will see most frequently on our list because of the prestigious MLB award that bears his name — the Cy Young Award. He is one of the best starting pitchers of all time, which is why his award is given to the best players.
Cy Young holds some of the most unbelievable records in the history of the sport, including:
511 career wins

316 losses

815 started games

7,356 innings pitched

749 completed games
Years later, Young still holds the record with 25.1 consecutive innings without a hit, which also includes the perfect game he pitched on May 5, 1904. 
11. Hoyt Wilhelm (1952 – 1972)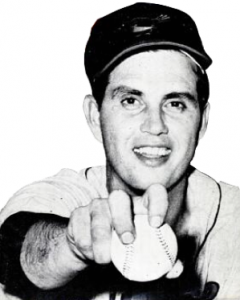 (Source: BleacherReport)
Hoyt Wilhelm was a unique pitcher at the time he played because he was equally successful both as a starter and as a reliever. He completed his ERA with a 2.52 score, which puts him in the third-best position since 1920.
However, the fact that he achieved that score within 20 seasons makes him one of the best MLB pitchers to have ever thrown a baseball ball.
Hoyt was also one of the players who helped the New York Giants win the 1954 World Series. Another reason that sets him apart from his opponents is he played until he was 49 years old. 
12. Greg Maddux (1986 – 2008)
(Source: TheSportHQ)
We love Greg Maddux because of his accuracy. His precision is exactly what helped him become one of the best pitchers in MLB. He usually aimed at the corners of strike zones which baffled hitters and caused them to miss.
His successful career amounted to four Cy Young awards. Not only that, but he received all of them one after the other between 1992 and 1995. At the time he was in Atlanta Braves, with other Hall of Fame teammates such as John Smoltz and Tom Glavine.
This roster also helped Atlanta Braves reach their first World Series title in 1995. 
13. Lefty Grove (1925 – 1941)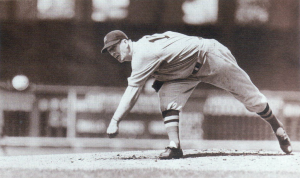 (Source: BaseballEgg)
Left-handed pitchers are not that common in MLB. Understandably, not too many of the best pitchers of all time are left-handed either. However, Lefty Grove is one of them and is one of the best to have ever played.
When it comes to strikeouts, Grove led the American League during each one of his first seven seasons. In addition, he won five ERA titles with Philadelphia Athletics and four more with the Boston Red Sox. 
Today, he is still one of the five best pitchers in ERA+ (148).
Lefty's best season ever was in 1931 when he achieved a 31-4 score with a 2.06 ERA, which earned him the AL MVP honor. 
14. Chris Sale (2010 – Present)
(Source: BleacherReport)
Chris Sale was one of the best pitchers in MLB in 2019, yet he still hasn't won any Cy Young awards. Many experts and fans believe that's a huge injustice. 
Baseball is still the most popular sport in the USA today, so MLB is still producing top-level athletes. One of them is Chris Sale, a 30-year-old pitcher playing for the Boston Red Sox. He previously played with the Chicago White Sox, with whom he made his debut in 2010.
In 2018, Chris had to take a break due to shoulder inflammation, but that did not stop him from finishing the year in the top six best pitchers in MLB in 2018, for the seventh time in a row. He also finished the season in the fourth position for the AL balloting.
15. Trevor Hoffman (1993 – 2010)
(Source: TheDelite)
Trevor Hoffman's number one career achievement is 601 career saves. That's quite impressive if you ask any baseball fan or pro. He was the first pitcher to ever surpass 600 saves and is now the number two player in that category. 
We also believe he is one of the best pitchers of all time due to his career WHIP of 1.058, which is the ninth-best score in the history of the sport.
Hoffman played for 14 seasons, each of which he ended with at least 30 saves. That makes him one of the best stoppers to have ever stepped on the field.
16. Randy Johnson (1988 – 2009)
(Source: Goliath)
Randy Johnson is known as one of the most intimidating pitchers of all time. His lanky and tall stature and unmatched chucking used to instill fear in his opponents. 
Johnson's 6'10" height has earned him his nickname, The Big Unit, and helped him to pitch at an average speed higher than 100 mph. 
However, the reason why we included him as one of the best MLB pitchers ever is because he won the Cy Young award five times and dominated the league in strikeouts nine times. 
Randy Johnson is also a ten-time All-Star and has won the pitching Triple Crown in 2002. As you can see, there are few things that he didn't achieve during his long career. 
17. Roger Clemens (1984 – 2007)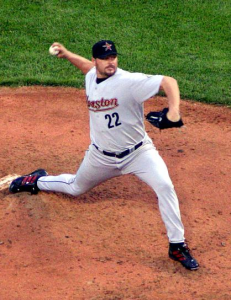 (Source: SportsCasting)
During his active professional career, Roger Clemens was aptly named The Rocket. He played with four different teams and dominated the mound in each one of them. 
Clemens hit our list because he is third on the all-time strikeout list with 4,732 and his career wins are twice as large as his losses.
Some other Roger Clemens stats worth mentioning include:
Seven Cy Young awards

Seven best ERA in the season titles

1986 AL MVP award

AL Cy Young award

All-Star Game MVP

20 single-game strikeouts
However, even though that was never proven, his accomplishments were tarnished by accusations of using steroids at the end of his career.
18. Eddie Plank (1901 – 1917)
(Source: AthlonSports)
Plank is a baseball veteran who played professionally for the first time in 1901. During his first 16 seasons, he achieved at least 14 wins in each and could boast with an ERA lower than 3.00. 
Moreover, Eddie finished 410 of his 529 starts, which is impressive in and of itself. However, he was also the top pitcher in MLB at the time as he helped the Philadelphia Athletics win two World Series trophies. 
If you need more proof that Eddie Plank is the GOAT, consider that he accomplished a record-low 1.32 ERA during his games in the Fall Classic. Moreover, his 66 career shutouts are the most in MLB history when it comes to left-handed pitchers. 
19. Jim Palmer (1965 – 1984)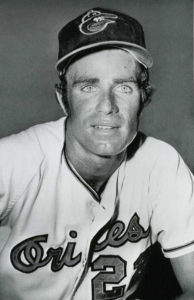 (Source: BaseballEgg)
Jim Palmer was an unstoppable force whenever he hit the mound during the 1970s which is why he is one of the best pitchers of all time. He spent 19 years in the league, all of those with Baltimore Orioles. During all that time, he never gave up a grand slam. 
Over the 70s decade, he won eight 20-plus games and received three Cy Young Awards. Moreover, with his help, the Baltimore Orioles jotted down six World Series appearances and won three titles. 
A few more of Jim Palmer's MLB pitching stats you might be interested to know include:
Career 2.86 ERA

Selected to Hall of Fame in 1990

6 All-Star Games

4 Gold Gloves
20. Bob Gibson (1959 – 1975)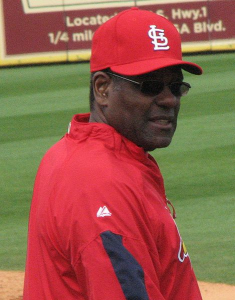 (Source: BleacherReport)
Bob Gibson will always be remembered as one of the MLB pitching leaders. He performed the best when the most was at stake. He achieved 7-2 and a 1.89 ERA in 9 World Series starts. He also pitched two shutouts and eight complete games.
Moreover, his 1968 season is considered by both fans and experts to be the best ever performance in the history of the sport. Some of the stats that marked it include:
22-9 

1.12 ERA

268 Ks

13 Shutouts

0.853 WHIP
The St. Louis Cardinals' best player also won two Cy Young Awards and was named the league MVP once.
21. Max Scherzer (2008 – Present)
(Source: BleacherReport)
Last but not least is Max Scherzer, arguably the best pitcher of today. So far he has won three Cy Young awards and is on a good path to win his fourth. 
Even though he has accomplished a lot, he still keeps setting new records. He led the NL by achieving a 0.091 WHIP and achieved a new career-high strikeout of 300. 
Max is 34 years old, so he still has a lot of time to rise in the ranks and perhaps end up in the first position on our list of the greatest MLB pitchers of all time.
During his last 10 seasons, Scherzer has made at least 30 starts in each and averaged 206 innings. His stamina is still world-class.
Conclusion
Baseball is the most popular sport in the US – and for a good reason. It is dynamic, attractive, and unpredictable. The best pitchers of all time that we have written about in this article have definitely helped a lot give the game of baseball that status.
What do you think of our list? Do you think we have omitted some great players? Who do you think will be the best pitcher in 2020? Let us know in the comments section below!
Sources:
1. BleacherReport
2. TheDelite
3. TheSportHQ
4. BleacherReport
5. SportsCasting
6. Goliath
7. TheSportHQ
8. TheDelite
9. BaseballEgg
10. AthlonSports
11. BleacherReport
12. TheSportHQ
13. BaseballEgg
14. BleacherReport
15. TheDelite
16. Goliath
17. SportsCasting
18. AthlonSports
19. BaseballEgg
20. BleacherReport
21. BleacherReport