Who are the best F1 drivers of all time? It is a question that has caused a lot of debate, as fans and experts cannot come to an agreement. We've decided to stir the waters once again and make a list that reflects our own opinion.
To come up with this list, we've looked at the number of titles the driver has won, the number of races he entered, the team he was driving for, pole positions, fastest laps, and other criteria. 
The results are below. Check out who the 19 greatest F1 drivers of all time are!
Best F1 drivers of all time:
2. Michael Schumacher
3. Juan Manuel Fangio
4. Jim Clark
5. Kimi Raikkonen
6. Fernando Alonso
7. Valtteri Bottas
8. Nelson Piquet (Senior)
9. Emerson Fittipaldi
10. Sebastian Vettel
11. David Coulthard
12. Lewis Hamilton
13. Alain Prost
14. Riccardo Patrese
15. Mika Hakkinen
16. Charles Leclerc
17. James Hunt
18. Jack Brabham
19. Kevin Magnussen
1. Ayrton Senna
(Source: FiveThirtyEight)
Ayrton Senna is the all-time number one F1 driver, hands down. Sadly, he had a short career and a short life, but he managed to leave a lasting mark in the sport.
He won three Formula One Championships and achieved 41 career wins in total. On top of that, he had 80 overall podium finishes and 620 total career points. 
He made a professional debut at the Brazilian Grand Prix in 1984 and won his first F1 Championship in 1988. In 1991, he became the youngest three-time champion ever, which is why he is in the best driver of all time on our list. 
He died tragically in a crash during the San Marino Grand Prix on May 1, 1994.
2. Michael Schumacher
(Source: Sports Show)
It was not easy deciding whether to make Michael Schumacher the number one of our list, but we finally decided to give him the second place. He had a long career, during which he won seven F1 championships. 
Apart from that, he has marked 91 total career wins, 155 podium finishes, and a total of 1566 total career points. He is the first rider to finish first in five consecutive Grand Prix seasons between 2000 and 2004. That's enough to be among the top F1 drivers.
Michael Schumacher will also be remembered as the world's first billionaire athlete, which says a lot about his success. 
In 2013, he suffered a serious head injury during a skiing vacation, from which he's still recovering. Little is known about his current condition.
3. Juan Manuel Fangio
(Source: F1 Greatest Drivers)
Juan Manuel Fangio is one of the drivers who made F1 racing one of the most popular sports in the world. He has become a synonym for speed, dominating formula 1 ranking. 
The Argentinian racer, also known as El Chueca, won five F1 championships and has a total of 24 wins. He has had 35 podium finishes and ended his career with 277 9/14 points. 
He debuted as a driver in 1938 and won the Grand Prix International Championship. Later on, he became the first driver to win the World Championship of Drivers four consecutive times between 1954 and 1957. 
After he retired from racing, Fangio became the honorary president of the team behind Mercedes F1 drivers.
4. Jim Clark
(Source: The Sun)
Jim Clark started racing in 1960 and finished his career tragically in 1968. However, these eight years were enough to make him one of the best F1 drivers ever. 
In those eight years, he became a champion two times — once in 1963 and another time in 1965. He was a natural talent, but his biggest problem was that he was often driving inferior cars, compared to his opponents. One example is the 1966 Dutch GP when he drove a two-liter car for the Lotus F1 team against three-liter Brabhams. 
By 1968, Clark had 25 wins to his name and 32 podiums. Mind you, he had just 72 starts, so these wins tell us that he was by far the most dominant driver of his generation. 
Apart from dominating F1, Jim Clark also won the Indy 500, the Tasman Series in Australia and New Zealand, and the British Touring Car Championship.
5. Kimi Raikkonen
(Source: Telegraph)
Kimi Raikkonen is one of the most famous Ferrari drivers. He has a reputation of being hard to beat on the track – and when it comes to partying and drinking as well. 
Raikkonen started racing in 2001 and became a champion only once, in 2007. He tallied 21 wins in total and 103 podium placements, which is quite impressive. 
During his long career, Kimi had 312 starts. He also achieved 46 fastest laps, which is why he is on our list of the best F1 drivers even though he won just one championship. 
6. Fernando Alonso
(Source: Redbull)
Like many other F1 champions, Fernando Alonso began his racing career by driving karting. He was a child prodigy, winning three consecutive championships in Spain between 1994 and 1997. 
Later on, when he entered the big boys' races, he was the best driver in the world by winning two F1 championships and achieving 32 total wins. He will also be remembered for his 97 overall podium finishes and 1899 points. He is still racing, so he might make these stats even more impressive. 
His first professional race was in the Australian Grand Prix, in 2001. He spent most of his racing career with Renault, but is now associated with the Ferrari F1 racing team. 
7. Valtteri Bottas
(Source: F1-fansite)
Valtteri Bottas is a young Finnish F1 racer. He was born in 1989 and is 31 years old at the moment. This means he has a long career ahead of him to climb up our list of the greatest F1 drivers. 
He first showed his star potential in 2013, even though the Williams team had a rather miserable year overall. He managed to finish eighth at COTA and reach top 3 in Canada. However, Bottas began shining in 2014 by ending up on the podium six times and coming close to pole several times. 
The biggest reason Valtteri Bottas is not the fastest F1 driver in the world right now is that he is Lewis Hamilton's teammate. Therefore, he can only satisfy his thirst with an occasional win.
8. Nelson Piquet (Senior)
(Source: Buzzdrives)
Nelson Piquet will always be remembered as one of the best and most attractive F1 drivers. He began racing in 1978 and stayed active until 1991. 
He is thought to be one of the reasons for Niki Lauda's retirement in 1979, due to a string of unbeatable performances. It didn't take him long to become the team leader at Brabham and one of the best F1 drivers ever.
Nelson Piquet became world champion three times, in 1981, 1983, and 1987. His total number of wins is 23, and he finished a race on the podium a total of 60 times.
Piquet was a very productive driver as well, marking 204 starts and 207 presences. His son, Nelson Piquet Junior, is also a successful and famous F1 driver.
9. Emerson Fittipaldi
(Source: New Atlas)
Emerson Fittipaldi is one of the drivers who dominated the 1970s era. He began racing in 1970 and finished his career in 1980. He started going strong from the first day, so he managed to win the United States Grand Prix in 1970 and quickly become the best youngest F1 driver. 
He kept improving his skills, which helped him become champion two times — in 1972 and 1974. Fittipaldi had 35 podiums by the end of his career and 14 total wins. He also set the fastest laps on 6 occasions and had 6 pole positions.
He will be remembered for being the youngest Grand Prix winner in 1970 and the youngest world champion in 1972.
10. Sebastian Vettel
(Source: Redbull)
Sebastian Vettel is a German F1 racer currently driving for Ferrari's team. He is a four-time F1 champion, with a total of 52 career wins. 
He won three consecutive world championships between 2010 and 2013. At the age of 30, he was one of the best drivers in 2018.
Vettel finished on the podium 115 times so far and has 2868 points. He began his career in 2007 in the United States at the Grand Prix, where he finished 7th. 
In 2008, he was already chosen as the Rookie of the Year, and managed to win his first Grand Prix. From there, his thirst for winning became stronger.
In 2009, he joined the Red Bull Honda team and won all of his championships with them.
11. David Coulthard
(Source: Telegraph)
David Coulthard is a living legend of the British racing scene. This Scottish-born F1 driver retired at the end of 2008 but did not leave the world of racing. He is now a commentator, presenter, and journalist. 
He started his racing career when he was just 11 years old, by driving karting races. In 1989, he finally progressed enough to enter the Formula Ford, which is where he won his first McLaren/Autosport Young Driver of the Year award. Soon after, he was named one of the best British F1 drivers.
He entered F1 as a test driver for Williams Renault and completed the season for the team after Ayrton Senna's death. 
He won his first Grand Prix in 1995 and became the highest-scoring British driver of all time in 2005, with 535 racing points.
12. Lewis Hamilton
(Source: New Atlas)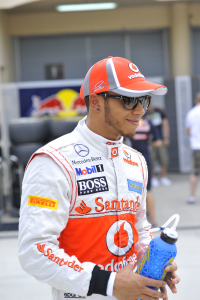 Does Lewis Hamilton even need an introduction? What about Hamilton's Honda? We believe not. He is by far the best F1 driver of modern times. Hamilton is 35 years old at the moment, born in 1985. He began his professional career in 2007 and has 250 starts thus far. 
He's also become one of the highest-paid athletes in the world.
Lewis Hamilton has won six world championships so far, in 2008, 2014, 2015, 2017, 2018, and 2019. He is the main favorite for the 2020 championship as well, so we will probably see him win his seventh title as well. 
So far, Hamilton has 84 wins to his name and 151 podiums. He was in the pole position 88 times and holds 47 fastest lap records. So if you ask who is the best F1 driver today, the answer is clear!
13. Alain Prost
(Source: F1-fansite)
The famous French racer, Alain Prost, held numerous records in the F1 world during his successful career. One of these was the record for most Grand Prix wins between 1987 and 2001. 
He used to drive for McLaren, Ferrari, and Renault, winning numerous races with each and leading McLaren F1 drivers.  He participated in 202 races, 106 of which he ended on the podium. In total, he won 51 races, 33 pole positions, and 41 fastest laps. 
Most importantly, Prost won the Formula One Championship four times in 1985, 1986, 1989, and 1993. That's one of the reasons he was called "Le Professeur."
14. Riccardo Patrese
(Source: FiveThirtyEight)
Riccardo Patrese might now have won any F1 world championships, but he is one of the drivers with the most starts ever — 256. Of that number, he achieved 37 podium finishes, 6 wins, and 8 poles. 
His most significant achievement ever was the 2nd place in the 1992 world championship, one year before his official retirement in 1993. Yet, he is still one of the best F1 drivers, past and present.
Apart from the positive accomplishments, he also has some negativity linked to his name. He is widely blamed for Ronnie Peterson's death at Monza, in 1978. However, he was later found to be not guilty of this incident. 
His career stats started improving when he left Arrows for Brabham, but he was usually in his teammate Nelson Piquet's shadow.
15. Mika Hakkinen
(Source: F1 Greatest Drivers)
Mika Hakkinen is a Finnish former F1 driver with two championship wins and 20 total career wins. We will remember him as one of the rare few drivers, who were able to beat Michael Schumacher in a straight fight. 
As a matter of fact, Schumacher once said that he believes Mika to be one of the best drivers of the era. That's just one more reason why he's fit to be named one of the greatest F1 drivers of all time.
He began his professional career in 1991 and retired in 2001. In those ten years, he started 161 times and had 51 podiums. He also achieved 26 pole positions and set the record for the fastest lap 25 times. 
He won his first championship in 1998 after a head-to-head duel with Schumacher and the second one in 1999, while Schumacher was recovering from a broken leg.
16. Charles Leclerc
(Source: Telegraph)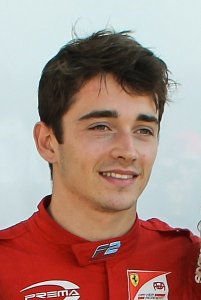 Charles Leclerc has been in the world of professional F1 racing for just two years. But we have still decided to include him on our list because he is one of the best F1 2019 drivers. That speaks volumes of his talent and achievements. 
He is driving for Ferrari at the moment, along with Sebastian Vettel. He has not disappointed during his first two seasons. In 2018, he scored 39 points in a car that was not anywhere near the top. He also achieved three seventh-place finishes by the end of the year.
After these accomplishments, there were no doubts about whether or not he should become one of the top Ferrari F1 drivers, along with Vettel. 
It remains to be seen how his career will progress, but it seems that he will quickly shoot for stardom.
17. James Hunt
(Source: FiveThirtyEight)
James Hunt had a short but fruitful career that began in 1973 and ended in 1979. Apart from being one of the best F1 drivers of all time, he was also known as a fun-loving playboy. 
He won the F1 world championship once in 1976 and finished his career with 10 wins overall. He also achieved 23 podium finishes, 14 poles, and 8 fastest lap records. All of that in just six years. 
At the time, there was nobody who could be on par with him, except for Niki Lauda. The two had a friendly and competitive relationship that befitted two of the top F1 drivers. 
Hunt died in 1993 of a heart attack in his sleep after being penniless and depressed for years. 
18. Jack Brabham
(Source: F1 Greatest Drivers)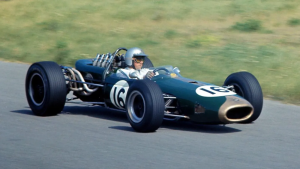 Jack Brabham takes the penultimate position on our list of the best race car drivers with three world championship titles. He dominated the world scene in 1959, 1960, and 1966. As a matter of fact, he was a dominant racer during his entire career, between 1955 and 1970. 
His most significant achievements include 126 starts, 14 wins, 31 podium finishes, 13 poles, and 12 fastest laps. 
He began his racing career in Australia and then moved to England to link with Cooper. He soon became one of the most famous racecar drivers, thanks to his technical skills and his laconic personality.
His first two championship wins were in Coopers, whereas the third was in a Brabham. That made him the first-ever racer to win a championship in a car of his own making. 
19. Kevin Magnussen
(Source: Crash)
Last but not least is Kevin Magnussen. We understand that many might not agree with our choice, but just bear with us for a bit. He is still a very young driver with a lot to show in his CV, so we believe that he has the potential to finish his career in a much higher position on our list of the greatest F1 drivers of all time. 
Magnussen began his career strongly, by winning a podium during his debut race at the Australian Grand Prix. In 2014, he was a close match for Jenson Button, but he was sidelined after Fernando Alonso became available.
Magnussen's aggressive and no-nonsense style has served him well thus far, making the young Dane one of the best midfield performers today.
Conclusion
Making this list was not an easy thing to do. We had to crunch data and compare dozens of extremely successful riders. In our opinion, Ayrton Senna is by far the leader among the best F1 drivers of all time. 
Who do you think should go up or down on our list? Do you think we've missed mentioning some names? Let us know in the comments section below!
Sources:
1. Fivethirtyeight
2. Sports Show
3. F1 Greatest Drivers
4. The Sun
5. Telegraph
6. Redbull
7. F1-fansite
8. Buzzdrives
9. New Atlas
10. Redbull
11. Telegraph
12. New Atlas
13. F1-fansite
14. Fivethirtyeight
15. F1 Greatest Drivers
16. Telegraph
17. Fivethirtyeight
18. F1 Greatest Drivers
19. Crash