College football has been prevalent across the United States for decades now. Еven though college football players aren't paid salaries, it is still extremely lucrative to play in the college leagues. 
College scholarships serve as enticing compensation, and because college football is considered just a tier below the major leagues – it's often vital for players to ascend to the professional level. 
It's through the sheer number of fans of college football (according to stats) that it became a popular pastime for people who love the sport. Let's take a look at some college football stats, both past, and present, to see how the game has progressed.
Ultimate 2019 NCAA Division 1 FBS College Football Stats:
Number of teams in 2019

– 130

Number of bowl games played

– 39

Average size of college football players

– 6 foot 1 ¾ inch, 232 pounds

Highest game attendance

– 112, 071, Ohio State Buckeyes vs. Michigan Wolverines, Michigan Stadium

Most touchdowns passes

– Joe Burrow, 65

Most season yards

– Joe Burrow, 6040

Most rushing yards by a quarterback

– Malcolm Perry, 2017

Most field goals made

– Keith Duncan, 29
1. Preseason college football rankings for the 2020 season put Clemson on top
(Source: NCAA)
No. 1 – Clemson (14-1 in 2019)

No. 2 – Ohio State (13-1)

No. 3 – Alabama (11-2)

No. 4 – LSU (15-0)

No. 5 – Georgia (12-2)
The 2019 college football season may be over, but it's never too early to look ahead to the new one and see who should be the top contenders in the college football standings. Even though the Clemson Tigers lost in the finals of the College Football Playoffs, they're ranked first going into the 2020 season as some key players will return, including star quarterback Trevor Lawrance. 
The Ohio State Buckeyes are ranked second, surprising most, even though they had a solid 2019 season. The Alabama Crimson Tide team comes in third, and they have some top players returning in 2020, which includes quarterback Mac Jones. 
They will want to erase the disappointment of missing out on the 2019 College Football Playoffs.  The return of key players in crucial roles could be the reason the tide turns for the team in crimson. That way they can get back on track in 2020.
The reigning 2019 national champions, the Louisiana State Tigers, are ranked fourth and they have to overcome the loss of their star quarterback Joe Burrow if they are to have any hopes of reaching the CFP in back-to-back seasons. 
Myles Brennan will likely be the Tigers' quarterback in 2020, and he'll have another star talent in wide receiver Ja'Marr Chase to throw in and rely on for the big plays. The Georgia State Panthers round out the top five. 
2. The LSU Tigers are the 2019 college football offensive stats leaders with 8526 yards gained and 726 points scored
(Source: ESPN)
15 games played.

8526 yards gained at 568.4 total yards per game.

6024 yards gained passing at 401.6 yards per game.

2502 yards gained rushing at 168.8 yards per game.

726 points scored at 48.4 points per game.
The LSU Tigers are the 2019 CPF winners and as per this New York Post article, they might be the greatest college football team ever. It was thanks in no small part to their offensive line and the combination of offensive coordinator Steve Ensminger and passing-game coordinator Joe Brady, which has paid huge dividends for the Tigers. There's also quarterback Joe Burrow, who under their tutelage transformed into a legitimate Heisman Trophy candidate. 
It took only seven games for him to set an LSU record for passing touchdowns in a single season against Mississippi State. That was the story of LSU's 2019 season as they were ranked No. 1 in the final eight weeks of the season, going undefeated and winning all 15 of their games—including setting a record by beating seven teams ranked in the top 10 at the time of the game. 
They had the best college football team stats of any team in recent history, the team not only became the second team in the history of college football to score 700 points, but they also scored the most of any team ever—726 in total, three more than Florida State in 2013. 
3. The Clemson Tigers are the 2019 college football defensive stats leaders with 3181 yards and 138 points allowed
(Source: ESPN)
13 games played.

3181 yards allowed at 244.7 total yards per game.

1801 yards allowed passing at 138.5 yards per game.

1380 yards allowed rushing at 106.2 yards per game.

138 points allowed at 10.6 points per game.
Coming into the 2019 Clemson football season, everyone had doubts about the Tiger defense, but thanks to the mastermind that is Brent Venables, the unit has been stable throughout the season. 
Losing the likes of Christian Wilkins, Austin Bryant, Clelin Ferrell, Dexter Lawrence, Trayvon Mullen, and others has certainly been tough on the Tigers, but Brent Venables has reinvented the unit.
4. The Rice Owls have the fewest penalty yards per game with 27.50
(Source: NCAA)
12 games played.

44 penalties allowed.

330 penalty points per yard.

27.50 penalty yards per game. 
Rice is tied for second in the college football team stats for fewest penalties allowed this year and first with the fewest penalty yards per game. The school record for fewest yards in a season is 258 in 11 games in 1961 (23.5). Rice last averaged less than 30 yards per game in penalties in 1996 (46-305 yds. 27.2 per game).
On a defense that ranked in the bottom four in C-USA in each of the previous four years, the Owls now have standouts, depth, and options. Linebacker Blaze Alldredge is tied for second in the nation in tackles for loss (21.5), and Free safety Prudy Calderon's four interceptions in 2018 were the most by an Owl since Phillip Gaines' four in 2013. No other team had better college football penalties stats than them. 
5. Joe Burrow, the Quarterback for the LSU Tigers, is the offensive passing stats leader with 402 completed passes
(Source: ESPN) 
402 completed passes.

527 attempted passes.

76.3% completion percentage.

5671 passing yards gained.

10.8 average yard per pass attempt.

60 passing touchdowns.

Longest pass coming in at 78 yards. 

6 interceptions.

34 sacks.

202.0 passer rating.

QB stats leader.
Joe Burrow just had one of the best seasons in college football history. He set the FBS single-season records for passing touchdowns (60) and total touchdowns (65) while winning the Heisman Trophy–the first from LSU to win it in 60 years–and leading the LSU Tigers to the national title. 
There's no other player in the country with better college football QB stats than Burrow. His unbelievable season stats see him also lead in a variety of college football individual stats – like most passing yards gained (5671), adjusted passing yards per attempts (12.5), highest passing efficiency rating (202.0), total yards gained (6039) and total yards per play (9.4).
6. Oklahoma State Cowboys' Chuba Hubbard is ahead in offensive rushing stats with 328 rushing attempts
(Source: ESPN)
328 rushing attempts. 

2094 rushing yards gained. 

6.4 rush per yards attempts.

21 rushing touchdowns.
Chuba Hubbard completed his season as the nation's rushing leader. On his way there, he became the second player in school history to rush for more than 2,000 yards in a season when he rushed for 158 yards on 19 carries to raise his total to 2,094 yards and join the legendary Barry Sanders, who rushed for an NCAA-record 2,628 yards in 1988.
Hubbard's 2,044 all-purpose yards also top the nation by a considerable margin, he averages nearly 186 yards per game, which is the best mark by nearly 20 yards. He's scored 20 touchdowns too, putting him behind only three other running backs.
7. Ja'Marr Chase, the Wide Receiver for the LSU Tigers, leads the pack in offensive receiving stats with 84 receptions
(Source: ESPN) 
84 receptions.

1780 receiving yards gained.

21.2 yards per reception. 

20 receiving touchdowns.
Ja'Marr Chase is one of the reasons Joe Burrow is No. 1 in efficiency at 202.0. Along with the star quarterback, Ja'Marr is the reason LSU are national champions. They were both breaking records in the National Championship game. 
While his teammate Burrow added to his season records for touchdowns, Chase broke the College Football Playoff record for receiving yards in a game. He now owns the SEC record for receiving touchdowns with 20 and receiving yards with 1,777 of them. This earned him The Fred Biletnikoff Award as the most outstanding receiver in American college football. 
8. California Golden Bears Linebacker Evan Weaver is the overall defensive stats leader with 181 total defensive tackles
(Source: ESPN)
103 solo tackles.

78 assisted tackles.

181 total defensive tackles.

2.5 sacks.

19 sack yards.

Three passes defended.

Three forced fumbles.
Evan Weaver led the Pac-12 conference and was also the national leader in solo tackles and total tackles during the Bears' 7-5 campaign, including three games of more than 20 tackles. It was his second straight season of leading NCAA Division I in tackles after he racked up 159 stops last season.
The leader of Cal's standout defense was recognized as the Pac-12's top player in his position. This led to him being awarded the Defensive Player of the Year, as voted by the league's coaches.
Weaver was a finalist for the Butkus Award honoring the nation's top linebacker, but that award went instead to Isaiah Simmons of Clemson.
9. Wisconsin Badgers' Running Back Jonathan Taylor leads the board in the scoring stats with 26 total touchdowns
(Source: ESPN)
21 rushing touchdowns.

Five receiving touchdowns.

26 total touchdowns.

156 points.

14 points per game. 
Jonathan Taylor finished his Badgers career with great college football running back stats as the No. 6 all-time rusher in the NCAA and the first player in history to rush for more than 6,000 yards in any three-year span. 
Taylor has been a crucial piece of Wisconsin's offense for the past three seasons, breaking numerous records — most notably for most 200-yard rushing games in a Football Bowl Subdivision career (12) and most rushing yards through a junior season (6,174).
Taylor also finished in the top 10 for the Heisman voting each season, along with winning the Doak Walker Award, for best NCAA running back, twice, and earning multiple All-American and All-Big Ten selections.
10. Kentucky Wildcats punter Max Duffy holds the lead in overall college football punting stats with 2358 points from 49 punts
(Source: sports-reference)
13 games played.

2358 points from 49 punts.

48.1 points per punt average.
Max Duffy has had an illustrious punting career with the Wildcats after being hailed early as the No. 1 punting prospect in the class of 2018 by Ray Guy's ProKicker.com. 
Duffy claimed the top prize for punters at the National Football College Awards. He picked up the Ray Guy Award after a sensational season punting for the University of Kentucky. 
It continues Australia's dominance of the punting honor with Duffy being the sixth former Aussie rules player to claim the award in the past seven years.
11. Tua Tagovailoa, the Quarterback for the Alabama Crimson Tide, has the all-time highest career passing efficiency rating with 69% career completed passes
(Source: sport-reference)
In his three seasons at Alabama Tagovailoa threw for 87 touchdowns.

He also threw for a total of  7,442 yards.

He completed more than 69% of his passes.
Tagovailoa, who started the 2019 season as a top candidate for the Heisman Trophy but was injured in November, ended his college football career as the nation's most efficient passer. 
He led the Southeastern Conference in passing touchdowns and passing yardage.
He was also the FBS' all-time leader in passing efficiency, on his way to becoming the most dominant quarterback in Alabama's storied history.
12. Bo Jackson finished his college football career with 4,575 all-purpose yards and 45 total touchdowns
(Source: ESPN)
Jackson played college football for the Auburn Tigers from 1982 to 1985.

For his performance in 1985, Jackson was awarded the Heisman Trophy.

During his time playing for the Auburn Tigers, he ran for 4,303 career yards which was the fourth-best performance in Southeastern Conference (SEC) history.

He finished his career at Auburn with 4,575 all-purpose yards and 45 total touchdowns, 43 rushing and 2 receiving, with a 6.6 yards-per-carry average.
Bo Jackson's elite talent in multiple sports has granted him the moniker of the greatest athlete of all time. And rightfully so. He is the only professional athlete in history to be named an All-Star in both baseball and football.
Bo Jackson's college football stats are the stuff of legend and his collegiate career with the Auburn Tigers had him ranked #8 on ESPN's "Top 25 Players In College Football History" list.  Unsurprisingly, his jersey number 34 got officially retired at Auburn in a halftime ceremony, making him only the third player in Auburn history to be given that honor. 
Jackson missed much of his senior season after being ruled ineligible by the NCAA following a visit with the Tampa Bay Buccaneers. Interestingly, Jackson believes they tried to sabotage his baseball career. 
During his junior and senior years at Auburn, Jackson had transitioned his focus to baseball. He was increasingly vocal in his disinterest in playing football in the NFL. He later went on to have successful, if short-lived, careers in both the NFL and the MLB. 
13. Dwayne "The Rock" Johnson played 39 games for the Miami Hurricanes with a total of 77 tackles and 4.25 sacks
(Source: ESPN)
He was a defensive lineman.

Dwayne Johnson's college football stats

were 39 appearances with only one start and a total of 77 tackles and 4.25 sacks.

He won a national championship with the Hurricanes in 1991.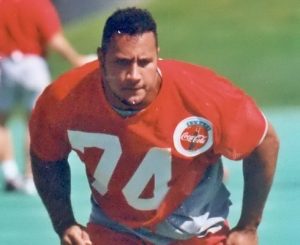 Most people might know Dwayne Johnson as a Hollywood megastar and the face of popular movies like Hobbs & Shaw, Jumanji, and Disney's Moana. Some might even know him from his time in WWE as the most electrifying man in sports entertainment. 
But before he was "The Rock" or Dwayne Johnson, he was "Dewey", and he played college football at the University of Miami for the Miami Hurricanes. Johnson was a defensive lineman for the Hurricanes between 1990 and 1994, with whom he won a national championship in 1991. Even though his college football stats were nothing to write home about he also had aspirations to play in the NFL.
He enrolled in the 1995 NFL Draft but went undrafted, so he instead followed in the footsteps of his grandfather "The High Chief" Peter Maivia and his father "The Soulman" Rocky Johnson and became a wrestler. His debut match was on November 17, 1996, during that year's Survivor Series pay-per-view as Rocky Maivia, an amalgam of his father and grandfather's names. 
FAQs:
Q: Who has the #1 defense in college football?
A: Georgia State Panthers.
Q: Who has the most touchdowns in college football 2019?
A: Joe Burrow from the Louisiana State Tigers with a total of 65 touchdowns.
Q: Who has the most touchdowns in college football right now?
A: Joe Burrow from the Louisiana State Tigers with a total of 65 touchdowns.
Q: What team is the best in college football?
A: The Louisiana State Tigers are the No. 1 ranked team in the NCAA.
Sources:
1. NCAA
2. ESPN
3. Sports-reference
4. Yardbarker
5. Cleveland
6. The Athletic
7. NYPost
8. Bleacherreport
9. The Advocate
10. 247sports
11. Rubbing The Rock
12. Fansided
13. Chron
14. CBC Sports
15. The Advertiser
16. Mercurynews
17. Badger Herald
18. UKAthletics