This article will highlight some of the most legendary Kobe Bryant stats and iconic moments from the career of the Black Mamba. Enjoy!
On January 26th, 2020, the basketball world lost one of its greatest legends. Kobe Bryant, a five-time NBA champion and an inspiration to many, died in a helicopter crash, together with his daughter Gianna and seven other passengers.
Kobe Bryant's death was a shock that was felt throughout the world. Every nation, even the ones where the sport wasn't that popular, paid tribute to one of the best athletes in history.
Even a few months after this tragedy, the thought of Kobe Bryant no longer being with us seems unreal. But that's only because he left such a huge imprint on basketball, and the world of sports in general.
However, we are not here to talk about Kobe Bryant's passing. Instead, we are going to focus on what made his loss so much difficult for every basketball fan in the world.
Fascinating Kobe Bryant Career Stats
Professional playing career

— 1996-2016

Teams played for

— Lower Merion (high school), Los Angeles Lakers, The United States national team.

Jersey numbers

— 8 and 24

Number of NBA championships

— 5 (2000, 2001, 2002, 2009, 2010)

MVP awards

— 1 (2008)

NBA Finals MVP

— 2 (2009, 2010)

NBA All-Star selections

— 18

All-NBA First Team

— 11

All-NBA Defensive Team

— 9
1. Kobe Averaged Over 30 Points in High School
(sources: NBC Philadelphia)
Junior year:

31.1 points

, 10.4 rebounds, 5.4 assists, 3.8 blocks, 2.3 steals.

Senior year:

30.8 points

, 12 rebounds, 6.5 assists, 3.8 blocks, 4 steals.

Pennsylvania Player of the Year

award for 1996.

Lower Merion win/loss record over Bryant's last three years:

77-13

.
Bryant already started turning heads when he was in Lower Merion high school in Pennsylvania. Kobe Bryant's high school statistics for his junior year show he had double-double averages with 31.1 points and 10.4 rebounds a game, including 5.4 assists. However, his skills were not only projected on the offensive end.
It was evident from early on that Bryan would be an excellent defender. During his junior season, he also had 3.8 blocks and 2.3 steals per game. Kobe was named Pennsylvania Player of the Year and managed to attract the attention of many top-level basketball colleges.
However, Bryant made a bold move and decided to move straight to the NBA after high school, which was a rarity at the time.
2. Bryant Won a Slam Dunk Contest in His Rookie Year
(sources: Sporting News)
Kobe's rookie year: 71 games, 15.5 minutes per game,

7.6 PTS

, 1.9 REB, 1.3 AST.

Los Angeles Lakers win/loss record 1996/97 season:

56-26

.

Kobe's

playoff stats

: 9 games, 14.8 minutes per game,

8.2 PTS

, 1.2 REB, 1.2 AST.

Selected for the NBA All-Rookie Second Team

Youngest All-Star Slam Dunk champion (18 years and 169 days).
Kobe Bryant was selected as the 13th overall pick in the 1996 NBA Draft, but was immediately traded in a rookie deal and sent to the Los Angeles Lakers.
Kobe Bryant's rookie stats weren't the most impressive. Putting only 7.6 points a game and playing for less than 16 minutes a game, Bryant flew under the radar.
Despite his stats, the Lakers' front office saw a lot of potential in their new player. Especially considering that he was barely 18 years old when he entered the league.
During the NBA All-Star weekend in Cleveland, Kobe won the Slam Dunk competition, thus becoming the youngest dunk champion in the history of this event.
The Lakers would go on to finish 4th in the West that year. They moved past Portland with ease, but the Utah Jazz, backed by their star duo of Stockton and Melone, would prove to be the Lakers stopping point.
During the playoffs, Bryant averaged just over eight points in under 15 minutes spent on the floor.
3. The Lakers Team of Kobe and Shaq Was the Last to Three-Peat
(sources: NBA.com)
Kobe won his first NBA title

in 2000.

Recorded a successful Lakers

three-peat

from 2000 to 2002 (last team to do so).

Kobe averaged

22.5

,

28.5

, and

25.2 PPG

in these three seasons, respectively.

Registered a career-high in field goal percentage in 2001/02 (

46.9%

).

First

All-NBA First Team

selection in 2002.

All-Star game MVP

in 2002.

All-Defensive First Team

selection in 2000.
During his first couple of seasons with the Lakers, Kobe Bryant's career stats were obviously improving, but he was still playing second fiddle to center Shaquille O'Neal.
It was around the turn of the century when these two became not only the two best players on the Lakers, but one of the best duos that the league has ever seen.
Guided by coach Phil Jackson, a six-time NBA champion with the Chicago Bulls in the 90s, Kobe and Shaq would rise to the occasion and straight-up dominate the league for three straight years.
Bryant won his first title in 2000 when he averaged 21.1 points a game in the playoffs. He would improve a year later with 29.4 points per game, including his playoff career-high in rebounds (7.3) and assists (6.1). The Lakers lost only one game in the 2001 playoffs. 
The team would complete the three-peat in 2002, with Bryant scoring 26.6 points a game in the postseason while shooting 43.4% from the field and playing 43.8 minutes per contest.
4. Bryant Won Back-to-Back Scoring Titles in 2006 and 2007
(sources: ESPN)
2005/06:

35.4 PPG

(career-high).

2006/07:

31.6 PPG

.

Scored

81 points

in a single game (second all-time).

Had an average of

32.8 points

in the 2007 playoffs (career-high).
Although the Lakers didn't win a title between 2002 and 2009, Kobe Bryant improved individually and became the team's go-to player once Shaq decided to join forces with Dwayne Wade in Miami in 2004.
Bryant was by far the most prolific scorer in the 2005/06 season. Kobe Bryant's 2006 stats show that he was averaging 35.4 points a game. Kobe had a legendary game against Toronto Raptors during that season in which he scored 81 points, second-most in NBA history behind Wilt Chamberlain's 100.
Here are the full Kobe Bryant stats from his 81-point game: 42 minutes, 6 REB, 2 AST, 3 STL, 1 BLK, 28/46 FG (60.9%), 7/13 3P (53.8%), 18/20 FT (90%), and only three turnovers with the +/- of +25.
He would win another scoring title a year later, this time with a slightly lower average of 31.6.
Despite Bryant's heroics, the Lakers weren't able to move past the first round of the playoffs in each of those seasons.
There were many criticisms directed at Bryant during these years. Many wondered if he was going to be able to win another title without O'Neal. Kobe and his Mamba Mentality would soon shut the critics' mouths for good.
5. Kobe's Only MVP Season Came in 2007/08
(source: Bleacher Report)
In his MVP season, Bryant averaged

28.3 PTS

,

6.3 REB

, and

5.4 AST

.

All-Star selection

,

All-NBA First Team

, and

All-NBA Defensive Team

in a single year.

He

played and started

in each of the

82 games

.

Bryant and the Lakers would lose in the NBA Finals to Celtics (2-4).
We can't talk about Kobe Bryant stats without mentioning his MVP season. Although many experts believe that he should have won the award sooner, Kobe Bryant finally got the title of Most Valuable Player in the 2007/2008 NBA season.
With over 28 points, 6 rebounds, and 5 assists per game, Bryant became the sixth Laker to win an MVP after Kareem Abdul-Jabbar, Magic Johnson, and Shaquille O'Neal, among others. He was also an All-Star and earned All-NBA First Team and All-NBA Defensive Team inclusions as well.
Although Bryant had a magnificent season and propelled his team to the Finals, the Lakers fell short of their long-time rivals Celtics in a six-game series.
6. Kobe Won Back-to-Back Titles in 2009 and 2010
(source: Basketball-Reference)
Kobe's 2009 playoff stats:

30.2 PTS

,

5.3 REB

,

5.5 AST

.

Kobe's 2010 playoff stats:

29.2 PTS

,

6 REB

,

5.5 AST

.

Won back-to-back

Finals MVP

titles.

Bryant is still the last player to win

back-to-back championships on two separate occasions

.
Many wondered if Kobe Bryant could win an NBA title while being the only superstar on a team. That discussion was put to rest during the 2009 and 2010 playoffs.
On these occasions, Bryant brought up his name in the conversation for one of the best players of all time. He averaged nearly 30 points in over 40 minutes per game in these playoff runs, rightfully earning him two NBA Finals MVP trophies.
The 2009 title run was a breeze, as the Lakers lost only five games on the road to a title. This involved a 4-1 win against the Orlando Magic in the Finals. In 2010, Bryant got a chance to get his revenge on the Celtics, and his team won in an excruciating 7-game series to clinch the title.
7. Kobe Bryant Spent All 20 of His Seasons with the Lakers
(sources: The Ringer)
The only other player to stay longer with one team is Dirk Nowitzki (21 years, Dallas Mavericks).

Bryant played

1,346 regular-season

games for the Lakers and has

220 playoff

appearances.

Jersey numbers

8

and

24

are

retired

by the Los Angeles Lakers.
Kobe Bryant would go down as one of the most loyal basketball players ever. The Lakers were his home, and he spent all 20 of his seasons with the team. Even when things were rough, and the Lakers weren't reaching their expectations, Kobe ignored the fact that he could join forces with other superstars on other teams and tried to bring more championships to LA.
Over 1,346 regular-season games, Kobe averaged 25 points, 5.2 rebounds, 4.7 assists, and 1.4 steals per game. His averages were similar even at key moments. When it comes to Kobe Bryant playoff stats, he had registered averages of 25.6 points, 5.1 rebounds, 4.7 assists, and 1.4 steals per contest in 220 postseason contests.
8. Bryant Was a 4-Time NBA All-Star Game MVP
(source: Talk Basket)
His All-Star MVP titles came in

2002

,

2007

,

2009

, and

2011

.

In 2009, Kobe shared a

co-MVP

award with former teammate

Shaquille O'Neal

.

In his 15 All-Star games, Bryant averaged

19.3 PTS

,

5 REB

,

4.7 AST

, and

2.5 STL

.
Apart from being amazing in games that decided championships, the Black Mamba was also keen on showing his passion for the game during the All-Star weekend.
Namely, Kobe averaged almost 20 points in those star-filled games, winning four All-Star Game MVP awards in the process. It is also interesting to note that Bryant shared his 2009 MVP award with his former teammate Shaquille O'Neal. The latter was playing for the Phoenix Suns that year.
9. Kobe Won 2 Olympic Gold Medals with Team USA
(source: SB Nation)
Bryant was a member of the United States Olympic basketball team in

2008

and

2012

.

Kobe's averages in the 2008 Olympics:

15 PTS

,

2.8 REB

,

2.1 AST

,

1.1 STL

.

Kobe's averages in the 2012 Olympics:

12.1 PTS

,

1.8 REB

,

1.3 AST

,

1.1 STL

.
Most basketball fans are familiar with Kobe Bryant's look in his Los Angeles Lakers jersey. However, he also proudly wore the USA national basketball team jersey on a few occasions.
Even though NBA superstars take the summer off to prepare for the upcoming season, Kobe insisted on playing at the Olympics twice, in 2008 and 2012. Both times the USA won the gold, and Bryant was one of the best players on the team.
Kobe Bryant's stats over 16 games at the Olympics include 13.6 points, 2.3 rebounds, 1.7 assists, and 1.1 steals.
10. In His Last Game, Kobe Bryant Scored 60 Points!
(source: NY Times)
On

April 14th, 2016

, Kobe Bryant scored

60 points

in his last NBA game.

The Lakers beat the Jazz

101-96

.

Bryant made

22 shots

out of 50 attempts, including 6 three-pointers.
The entire final season of Kobe Bryant's career was a spectacle. The legend was saying his basketball farewell. Although the Lakers were nowhere near the playoffs, the games were worth watching just because of Kobe.
Black Mamba left just enough gas in the tank to have one final legendary game, and it was the very last game he would ever play in the NBA.
On April 14th, 2016, the Lakers hosted the Utah Jazz. Bryant's attempts weren't falling in right from the start. As he warmed up, everybody in Staples Center could see what was coming. They had seen it before.
Bryant single-handedly managed to turn the game around in the fourth quarter, knocking down shots from every position. The Lakers won, and Bryant ended his career with an exclamation point.
He finished the game with 60 points while being almost 38 years old. This remains one of the most impressive Kobe Bryant career stats.
Conclusion
This legend's early passing was sad news to every basketball fan. Even when you put aside all of Kobe Bryant's stats and achievements, you can see that he was a person devoted to his profession. He was also a philanthropist, and a loving father and husband.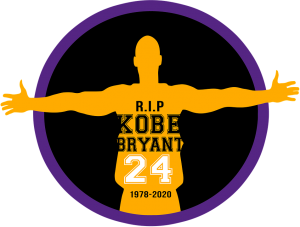 Although we lost Kobe earlier than expected, we should feel lucky that we got to see this man play for 20 years in the NBA. His legacy will live on, and his highlight reels will continue to be viewed with joy and amazement by future generations.
FAQ
Q: Who is better, Kobe or LeBron?
A: Opinions vary, and it's difficult to answer this question without being a little bit subjective. Kobe did win more titles than LeBron (5 to 3), but James' individual stats are nothing short of amazing as well.
Q: How many points did Kobe score per season?
A: In 1,346 regular-season games, Kobe Bryant averaged 25 points per game.
Q: What is Kobe Bryant's free throw percentage?
A: Kobe was one of the best free-throw shooters in history. In his career, he averaged 83.7% from the line.
Sources
1. ESPN
2. NBC Philadelphia
3. Sporting News
4. NBA.com
5. ESPN
6. Bleacher Report
7. Basketball-Reference
8. The Ringer
9. Talk Basket
10. SB Nation
11. NY Times