The NBA has blessed us with the likes of Michael Jordan, Magic Johnson, LeBron James, Larry Bird, Kareem Abdul-Jabbar, Wilt Chamberlain, and many other great players. However, out of the players we have just listed, you might have noticed that there aren't any power forwards.
Even though it might often be unappreciated, the PF position has been an instrumental part of the game, and in this article, we are going to talk about the best power forwards in NBA history.
Read on!
The Basics of the Power Forward Position
Before we get to the best NBA power forwards, let's see first what is power forward in the first place, and what is the role of such a player?
Power forward (also commonly referred to as the number 4 position) is a player that plays in the post and is usually responsible for rebounding and mid-range jump shooting. PFs are usually smaller and quicker than NBA centers, and can, therefore, stretch the floor better and play facing the basket as well as backing into the post. Male power forward players are usually between 6' 6'' and 7' in height.
Of course, the power forward position itself can have different variations. There's the forward-center who is more physical and plays predominantly in the paint, and the combo forward (stretch four) that can shoot from long distance.
In today's game teams rely heavily on three-point shooting. This makes for a somewhat "positionless" basketball with small-ball lineups, and it's much more useful for a team to have smaller power forward that can run fast breaks and shoot from behind the arc.
21 Best Power Forwards in NBA Ever
2. Dirk Nowitzki
3. Kevin Garnett
4. Charles Barkley
5. Karl Malone
6. Bob Pettit
7. Dolph Schayes
8. Kevin McHale
9. Elvin Hayes
10. Dennis Rodman
11. Jerry Lucas
12. Tom Heinsohn
13. Bobby Jones
14. Chris Bosh
15. Dave DeBusschere
16. Larry Nance
17. Chris Webber
18. Vern Mikkelsen
19. Amar'e Stoudemire
20. Elton Brand
21. Otis Thorpe
While each basketball fan has their own list of best players for a certain position, many agree that the following names are among the all-time best power forwards in NBA. To exclude any biased opinions, we decided just to name the 21 best players and not rank them in any way.
1. Tim Duncan
(Source: Basketball-Reference)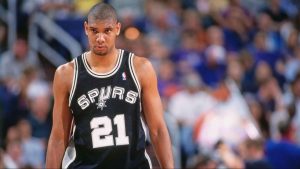 The "Big Fundamental" as he was once referred to by his college Shaquille O'Neal, Tim Duncan has never been one of the most exciting players that the league has seen, but he was always praised for his fundamental skills. 
Duncan was selected as the first overall pick in the 1997 draft by the San Antonio Spurs, a team that he would call his home for the entirety of his professional career. He won five titles with the Spurs (1999, 2003, 2005, 2007, and 2014), while also picking up more than a few individual accolades, like the two time MVP trophy, 10 All-NBA First Team selections, 15 All-Star appearances, and many more.
Duncan's style of play was one of a reliable scorer in the paint who could also use his trademark bank shot to knock down most of his jumpers. But apart from his offensive skill set, Timmy D set himself apart on the defensive end of the floor. His long arms often resulted in steals and blocked shots, while he was also one of the most dominant rebounders in the game.
In his career, Duncan averaged 19 points, 10.8 rebounds, 3 assists, and 2.2 blocks. His averages significantly dipped during his less-impactful seasons in the later stages of his career. In contrast – in one of his MVP seasons, Tim averaged 25.5 points and 12.7 rebounds while also getting 2.5 blocks per game. 
During his long career, Duncan was considered the best NBA PF alongside Dirk Nowitzki, with whom he had plenty of exciting matchups. He was inducted in the College Basketball Hall of Fame in 2017, while the number 21 has been permanently retired from the San Antonio uniform. Starting with the 2019/20 NBA season, Duncan has been assigned a role of an assistant to his San Antonio coach and mentor Greg Popovich.
2. Dirk Nowitzki
(Source: NBA)
When he first came into the league in 1998, the tall and lanky German 20-year-old by the name of Dirk Nowitzki didn't raise too many eyebrows. His first season where he averaged only 8.2 points on 40% shooting didn't even land him a spot in the All-Rookie team. Few could have guessed that after this first year, Dirk Nowitzki would grow to become one of the best power forwards in NBA history and the best foreign-born NBA player of all time. He would also change the game of basketball forever.
You could immediately tell from the start that Dirk was different. He wasn't a typical big that relied on his physical strengths. Nowitzki was a shooting guard in the body of 7-foot power forward. He could slash to the basket and finish with an unprecedented touch for his size, and he could shoot the lights out of a building – especially from behind the 3-point line, which was something uncommon for a guy his size at the time. In 2006, Dirk won the NBA All-Star three-point contest, making him the tallest player to win that competition.
Nowitzki often used his trademark fade-away jump shot that was almost undefendable. LeBron James even called it the second most unstoppable move after Kareem's famous skyhook.
Just like Duncan, Dirk Nowitzki spent his entire career playing for only one team – the Dallas Mavericks. The biggest highlight of Dirk's career was winning the 2011 NBA Championship, where Nowitzki played amazingly and almost single-handedly defeated the heavily-favored Miami Heat. Apart from his championship ring, Nowitzki was also named MVP in 2007, has four All-NBA first-team selections, and 14 All-Star appearances. At this moment, Dirk is 6th on the all-time NBA scoring list with 31,560 buckets.
For his career, Dirk Nowitzki averaged 20.7 points and 7.5 rebounds per game, while also shooting 38% from three and nearly 89% from the line. In his MVP season, the German superstar averaged 24.6 points, 8.9 rebounds, and 3.4 assists. His three-point percentage for that year was 41.6%, while he also shot over 90% from the line.
3. Kevin Garnett
(Source: Draft Express)
Kevin Garnett took the league by storm right from his first season with the Minnesota Timberwolves in 1995. He was truly a player that could do it all – rebound (4x rebounding champion), block shots, distribute the ball, and most importantly, score the basket.
KG was known for his fighting spirit and hot-headed temper, which is part of what drove him to become one of the top NBA power forwards ever. Garnett's presence off the court was equally important as the one he had on the court. As Danny Ainge said when discussing Garnett's title run with the Celtics: "His enthusiasm and energy is what made the difference. But it was also that he was a true believer. He had strong faith in his team and was confident about its success."
KG started promisingly enough as a 19-year-old rookie in Minnesota. By his second year, he was already an All-Star, being one of the league leaders in points and rebounds per game. Garnett's best season with the Wolves came in 2003/04 when he won MVP. That season, he recorded career-highs in points (24.2), rebounds (13.9), and blocked shots (2.2). 
This was also the year in which the Wolves had high hopes for the NBA title. Unfortunately, they could only reach as far as the Western Conference finals, where they would be beaten by Kobe's Lakers.
While Kevin Garnett spent his best years in Minny, it would be his irreplaceable role with the 2007/08 Boston Celtics (and, admittedly, pairing up with Paul Pierce, Ray Allen, and Rajon Rondo) that would bring him his only championship ring.
Garnett was an absolute pest on the defensive end, which is highlighted by his nine All-NBA Defensive First Team selections. He was also selected four times for the All-NBA First Team overall and had 15 All-Star appearances. During his 22-year-long career, KG had 17.8 points, 10 rebounds, 3.7 assists, and 1.4 blocks per game on average.
4. Charles Barkley
(Source: NBA)
Charles Barkley, aka the Round Mound of Rebound, was one of the most exciting players ever to play basketball, and definitely one of the best in the long list of power forwards in the NBA.
Barkley was unique in many ways, but one of the most interesting things about him was his height. He was only 6 foot 6 inches tall (1.98 m), yet he was dominating much bigger power forwards and centers than himself. The energy he put on the floor was also unparalleled. Ask any big from his era, and they would tell you that Barkey was one of the toughest players they have ever had to guard.
Count out his rookie season, and you would see that Sir Charles averaged at least 10 points and at least 10 rebounds in every year that he played in the NBA. His highest scoring season was in 1987/88 when he put up 28.3 points on 58.7% from the field with Philadelphia 76ers. Only a year before, he led the league in rebounds with 14.6 per game.
In his first season with the Phoenix Suns (1992/93), Barkley won the Most Valuable Player award, something that only a handful of players managed to get during the Michael Jordan era. However, playing at the same time as peak Jordan also resulted in Barkley never winning a championship ring.
Nevertheless, Barkley would go down as one of the top forwards in NBA history and probably the best player ever to not win a title. Apart from his MVP trophy, Charles Barkey was an 11-time All-Star and had five All-NBA First Team selections. It is also worth noting that Barkey was part of the original Dream Team that won gold at the 1992 Olympics in Barcelona. The number 34, which Barkey wore for the majority of his career, is retired from use by both the Philadelphia 76ers and the Phoenix Suns.
5. Karl Malone
(Source: Basketball RealGM)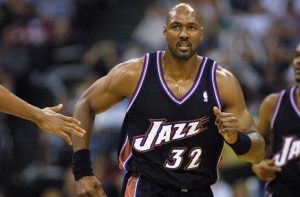 Karl Malone is remembered as one of the most resilient basketball players to ever step on the floor. Excluding his last year with the Lakers, Malone only missed eight games in his first 18 NBA seasons, and the number of 1471 career starts is still the official NBA record.
The Mailman, as he was nicknamed, averaged more than 20 points each year except for his rookie season and his last season. His best years with the Utah Jazz were highlighted by the great chemistry he had with his co-star John Stockton. The two were the best at pick-and-roll situations, where Melone benefited from Stockton's virtuoso-like passes. Nevertheless, Malone was a gifted passer himself, as he averaged 3.6 assists per game in his career.
However, Malone's physical strength was what set him apart. He would often overpower most power forwards and easily score in the paint. Apart from that, Malone could also run the floor extremely well, knowing that Stockton's vision and passing would always benefit him.
Malone's Utah Jazz came close to winning a championship several times in the 90s but were denied every time by MJ's Bulls. The Mailman also had another shot at the title with the Lakers in 2004, but they lost in the final to Detroit Pistons.
In the end, Karl Melone can say that he had a career as one of the top forwards in the NBA. After 19 years on the floor and almost 1500 games played, he averaged 25 points and 10.1 rebounds per game. Malone's biggest accolades were two MVP titles (1997 and 1999), 14 All-Star selections, and 11 All-NBA First Team selection for 11 straight seasons from 1989 to 1999. Just like Barkley, Malone was a member of the 1992 United States Olympic basketball team. The number 32 is retired by the Utah Jazz.
6. Bob Pettit
(Source: Bleacher Report)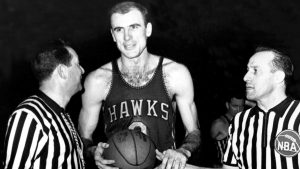 Bob Pettit was one of the first among the dominant power forward players. He played for the Milwaukee and St. Louis Hawks between 1954 and 1965. For his career, Pettit averaged 26.4 points, 16.2 rebounds, and 3 assists. In his most dominant season ever, he put up ridiculous stats and scored over 31 points a game to go along with over 18 rebounds on average.
This was the time when Bill Russel and the Celtics were pretty much dominating the league, but Pettit's Hawks did manage to snatch one title from Boston in 1958. Bob Pettit was an 11-time All-Star and was twice named the Most Valuable Player (1956 and 1959).
7. Dolph Schayes
(Source: NBA)
Young NBA fans probably don't even know who Dolph Schayes is, let alone acknowledge his achievements. Schayes was one of the best power forwards in NBA history and definitely one of the most underrated ones as well.
He spent most of his career playing for the Syracuse Nationals, a former NBA team that has won a championship in 1955. Schayes was a scoring and rebounding machine. In his best season ever, he averaged 25 points and 14 rebounds, all while shooting over 90% from the free-throw line – something that's very rare amongst bigs.
Dolph Schayes was an All-Star for 12 straight years and NBA's rebounding leader in 1951. He got selected for the All-NBA First Team six times.
8. Kevin McHale
(Source: ESPN)
In the last golden age of the Boston Celtics, Larry Bird grew out into a legend and one of the best players that basketball has ever seen. However, he didn't do it alone, and his most efficient partner in crime was Kevin McHale.
McHale's fundamental back-to-the-basket technique earned him seven All-Star appearances and an All-NBA selection in 1987. What's interesting about McHale is that he was mostly coming off the bench, which also granted him two Sixth Man of the Year awards.
For his career, McHale averaged 17.9 points and 7.3 rebounds, but these stats only tell half the story. Kevin was a terrific defender, posting almost two blocks per game and getting selected for the All-NBA Defensive Team for three years straight. He won three NBA titles with the Celtics.
9. Elvin Hayes
(Source: Basketball-Reference)
Nicknamed "The Big E", Elvin Hayes was a power forward basketball legend in the 1970s. He played for the Rockets and the Bullets from 1968 to 1984. You could tell that Hayes was special right from the start. He led the league in scoring and put up 28.4 points per game in his *rookie* season.
From there, he went on to win the 1978 NBA title with the Washington Bullets, 12 NBA All-Star appearances, and three All-NBA First Team ballots. Although his last few years in the league detriment his career stats, Hayes still put up 21 points and 12.5 rebounds on average.
10. Dennis Rodman
(Source: What If Sports)
w
Dennis Rodman was mostly known for his extrovert lifestyle and zany haircuts, but true basketball fans also know that he was a damn good NBA player.
The Worm, as they called him, didn't put up such high scoring numbers, but his presence and hustle on the floor is what made him one of the most valuable players during his 14-year-long career. Rodman was one of the most dominant rebounders of all time and led the league for seven straight seasons in that category. In his best rebounding season, Rodman put up ridiculous 18.7 rebounds a game.
He was a part of the Detroit Pistons' "Bad Boys" team who were a defensive menace and were known for their rough play style, winning two straight championships in the late 80s. Playing alongside legendary Michael Jordan, Rodman also managed to win three more championship rings with the Bulls in the 90s. He was a two-time NBA All-Star and twice earned the Best Defensive Player of the Year award.
11. Jerry Lucas
(Source: ESPN)
Jerry Lucas had one of the best rookie seasons of all time. In his first year playing for the Cincinnati Royals, Lucas recorded 17.7 points and 17.4 rebounds, earning himself the Rookie of the Year award. Only two years later, he put up 21.5 points and 21.1 rebounds. Apart from his scoring and rebounding abilities, Jerry was a pretty gifted passer as well.
Lucas was a 7x All-Star and 3x All-NBA First Team member. While he never won a championship during his prime, he managed to win a ring with the 1972/73 New York Knicks, putting up 7.5 points and 5 rebounds throughout the playoffs that year.
12. Tom Heinsohn
(Source: Basketball-Reference)
Tom Heinsohn was the instrumental part of the Boston Celtics throughout the late 50s and early 60s. In his nine NBA seasons, Heinsohn won a title in all but one of them. Several years after his retirement, he became the head coach of the Celtics and won two more titles with them in 1974 and 1976.
Heinsohn was a prolific scorer and a rebounding force. He averaged 19.8 points and 9.2 rebounds for his career. He was also a six-time All-Star and the NBA Rookie of the Year in 1957.
13. Bobby Jones
(Source: Basketball RealGM)
Bobby Jones is one of the rare players on this list who got to play in both the NBA and the ABA. When you look at his career stats and see that he only averaged 11.5 points and 5.5 rebounds, you might not think much of him. However, Jones was mostly known for his defensive efforts. He made the All-NBA Defensive Team eight times while only playing for nine years in the league. The only time he missed being in the best defensive five was in his last season, and he still made the second team that year.
Bobby Jones averaged 1.3 steals and 1.4 blocks for his career, but those averages were even higher when he was in his prime. He won the 1983 NBA championships with the Sixers and was a 4x All-Star.
14. Chris Bosh
(Source: Rotoworld)
After the departure from Vince Carter, the Toronto Raptors were looking to find their new superstar. They did so in the 2003 draft when they selected Chris Bosh out of Georgia Tech University.
Bosh played great in his seven years as a Raptor, but he was never surrounded by other superstar talents that could help him win a championship. In 2010, Bosh joined forces with LeBron James and Dwayne Wade and won back-to-back titles playing for the Miami Heat. Health issues and injuries shortened his career, but he still got to be considered as one of the best NBA power forwards ever.
Chriss Bosh was an 11-time All-Star, posting up 19.2 points, 8.5 rebounds, and 1 block for his career.
15. Dave DeBusschere
(Source: NBA)
Dave DeBusschere was a well-rounded power forward that could do everything. He could score, rebound, distribute the ball, but more than anything, he could play great defense. DeBusschere never averaged more than 18.2 points per game in a season, but he was a 6x All-NBA defensive team member.
He never had much playoff success with the Pistons, but his time in New York was rewarded as he was the instrumental part of the Knicks teams that won two titles in 1970 and 1973. Apart from these accolades, DeBusschere was also an 8x All-Star.
16. Larry Nance
(Source: Heavy)
Larry Nance is mostly known for winning the first Slam Dunk competition in 1984. However, there was more to Nance's game than just throwing ferocious dunks and shaking the rims all over the NBA.
As a matter of fact, Nance was a 3x NBA All-Star and earned a spot in the 1989 All-NBA Defensive Team. He averaged 17.1 points and 8 rebounds per game, although these stats were much higher during his peak years. Playing for the Phoenix Suns and the Cleveland Cavaliers, Nance never got to win an NBA championship despite some deep playoff runs. Nevertheless, he is considered to be one of the top forwards in NBA history. 
He is also the father of Larry Nance Jr, a current NBA power forward.
17. Chris Webber
(Source: Basketball-Reference)
Chris Webber is probably one of the biggest "what ifs" on this list. Although he had a pretty remarkable career, many people wonder where he would have ranked if it weren't for all those injuries that he had to go through. He never even got to play one full season.
Despite the injury issues, Webber put out an impressive few years in the NBA. His best days were in the Sacramento Kings uniform, where he recorded 27.1 points and 11.1 rebounds in the 2000/01 season. Only two years prior to that, he led the league in rebounding with 13 boards per game.
Webber was never lucky enough to win an NBA title, but he was still a 5x All-Star and All-NBA First Team member in 2001.
18. Vern Mikkelsen
(Source: Britannica)
One of the pioneers of NBA power forwards, Vern Mikkelsen won four titles with the Minneapolis Lakers, and was the head coach of the Minnesota Pipers for a brief period after his playing career.
Vern was one of the leaders in one of the earlier dynasties of the league, putting up 18.7 points and 10.2 rebounds in his best season. He wasn't the most prolific scorer, but he was an irreplaceable part of that early Lakers team. You also need to take into consideration that the offenses weren't as sophisticated back in those days, so while Mikkelsen's numbers are not all that impressive for today's standards, he was one of the best NBA PF players during the 50s.
19. Amar'e Stoudemire
(Source: Basketball-Reference)
Stoudemire is the only player on this list that still has an active basketball career. However, he is out of the NBA, but he's playing pretty good in Israel right now and is a part-owner of a club there. 
Amar'e was one of the most dangerous scorers and rebounders during the mid-2000s while playing in Mike D'Antoni's "seven seconds or less" offense alongside Steve Nash. He was the 2003 Rookie of the Year and appeared six times at the All-Star Game.
Stoudemire had seven seasons where he put up more than 20 points per game and eight seasons where he had more than 8 rebounds per game. Unfortunately, he never won an NBA title.
20. Elton Brand
(Source: NBA)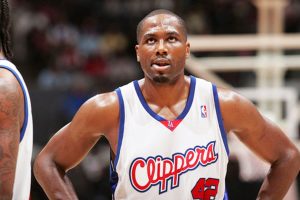 The LA Clippers weren't really that good during the 2000s, but they had one bright spot, which was Elton Brand. He was one of the elite power forward players during the era, and he constantly put up 20 points and 10 rebounds per game.
Unfortunately, injuries made him become a journeyman in the later stages of his career, which hurt his overall averages. Nevertheless, he was a two-time NBA All-Star during his prime and a 2000 NBA Co-Rookie of the Year.
21. Otis Thorpe
(Source: Basketball RealGM)
Otis Thorpe had a really long career that stretched from 1984 to 2001. He played in 1,257 games for nine different times. Longevity alone earns him a spot on this list, but he was also a darn good power forward.
Thorpe averaged 20.8 points and 10.2 rebounds in his best season with the 1987/88 Sacramento Kings, while he also put up 14 points and 10.2 rebounds during his championship season with the 1993/94 Houston Rockets. It is also worth mentioning that he was a 1992 All-Star.
Conclusion
The list of power forwards in the NBA is much longer and we could have mentioned a lot of other names in this article. Still, in our opinion, these are the absolute best power forwards in NBA history.
Today's game has changed and there is much less attention given to individual positions. Whether that's for better or for worse, it is left for us to form an opinion. In any case, the names of these great power forwards will always be fondly remembered by every basketball fan who has seen them play or watched their highlights.
Sources
:
1. Tim Duncan
2.Dirk Nowitzki
3. Kevin Garnett
4. Charles Barkley
5. Karl Malone
6. Bob Pettit
7. Dolph Schayes
8. Kevin McHale
9. Elvin Hayes
10. Dennis Rodman
11. Jerry Lucas
12. Tom Heinsohn
13. Bobby Jones
14. Chris Bosh
15. Dave DeBusschere
16. Larry Nance
17. Chris Webber
18. Vern Mikkelsen
19. Amar'e Stoudemire
20. Elton Brand
21. Otis Thorpe